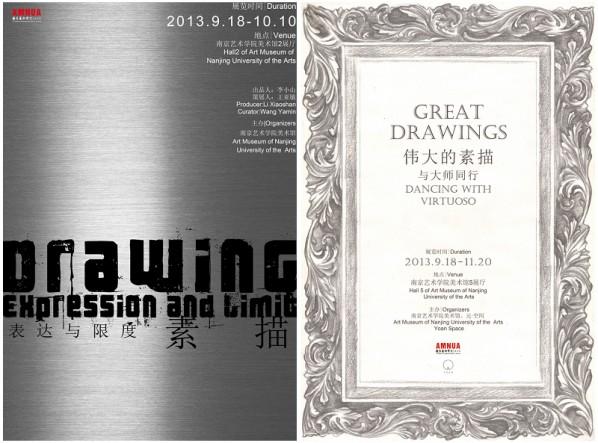 I. Drawing·Expression and Limit—Drawing Modes in Contemporary Chinese Art
By the way of "drawings", the exhibition will bringing together artists's different pracices. Exhibited works could be painting, installation, video and other kinds of medias, which are the metamorphoses of drawing now. To install the drawing modes in contemporary art practices, Artists' shows of their personal "drawing" systems will be relatively separate. By the perspective of expression and limit, it will show the drawing modes in Chinese Contemporary Art with it's ideas and practices. As for the drawing, the fundamentality of drawing, which we generally assume, should be re-implemented by tracing the idea history of drawing, which could result that drawing itself is essentially a way to express, a direct expression.The emphasis oneself-consciousness of the expression and limit is represented by uninterrupted and indefinite indulgence or restraint of drawing modes, which is one of the conversions of stimulating models of contemporary expression. Therefore, according to time, drawing modes are put into the contemporary as "time's comrades." On the drawing show, the exhibition will be placed into the show of western drawings from classical to modern Age(Great Drawings·Dancing with Virtuoso). The artists with their works will also be juxtaposed at the same time on the scene. Through many levels of time and space and the mosaic of individual systems and the overall system, the exhibition shows a landscape of drawing by performing together, which aims at reconstructing drawing on the base of it's ideas' essence, namely drawing should to be contemporary.
II. Great Drawings·Dancing with Virtuoso —Western Drawings From Classicalto Modern Age
Including more than 50 original drawings by western masters, AMNUA Drawing Show Series: Great Drawings—Dancing with Virtuoso will be the first large-scale show in China with masters's drawings from the Renaissance to modern age, which will include but be not limited to Classicism, Mannerism, Romanticism and Exprisseonism, etc. There is no lack of wondeful works of masters such as Alberti, Ingres, Watteau, Friedrich, Beckman, Dix, Kokoschka, Klimt, Balthus and Morandi, etc. Presenting drawing modes from classical to modern age, the exhibition will provide an interesting reference for drawing modes in contemporary art practices. Taking a sort of extremely important "Mannerism" spiritual clue throughout the exhibition as an example, Mannerism's "the fear and morbidity of the dramatic split between artistic language and life… suffered a change of art's function and going towards a painful practice with weightlessness", as well as Watteau'sart seems to "worked for a 'form' age", described by Let – Francois Lyotard, leads this spiritual clue toward Expressionism and "Pseudoclassicism" especially contemporary art practices. "Great Drwings" refer to not only these drawings' exquisite skills, but also a spiritual resonance, namely, across space and history, the feeling and expression of our artistic existence. With "Dancing with Virtuoso", the Art Museum of Nanjing University of the Arts tries to experience a great resonance.
About the exhibition
AMNUA Drawing Show Series/I Drawing·Expression and Limit & II Great Drawings·Dancing with Virtuoso
Producer: Li Xiaoshan
Curator: Wang Yamin
Duration&Participating Artists/
I. Drawing·Expression and Limit
Duration: September 18, 2013 – October 10, 2013
Artists: Chen Tong, Chen Tianzhuo, Guan Xiao, Gao Bo, He Qiantong(Hong Kong), JNA, Lai Chih-Sheng(Taiwan), Liao Fei, Liang Haopeng, Mu Xue( the Netherlands), Shang Yixin, Sun Xun, Song Tuo, Tang Hui, Wang Taocheng, Xie Molin, Xu Zhe, Yan Cong, Yu Aijun, Zhou Yilun
II. Great Drawings·Dancing with Virtuoso
Duration: September 18, 2013 -November 20,2013
Artists: Balthus, Giovanni Agostino da Lodi, Guido Reni, Gaetano Gandolfi, Giovanni Francesco Barbieri, Carlo Maratti, Giovanni Alberti, Pietro Berrettini, Roman School(18th Century), Italian School(circa 1700), Lovis Corinth, Caspar David Friedrich, Oskar Kokoschka, Antonio Balestra, Tao Lenyue, Otto Dix, George Grosz, Gustav Klimt, Kathe Kollwitz, Jean Auguste Dominique Ingers, Giovanni BaTTISTA Piazzetta, Jean-Antoine Watteau, Giorgio Morandi, Max Beckmann
Venue: Hall of 2&5 of Art Museum of Nanjing Nanjing University of the Arts
Media Release: 15 :00 September 18, 2013
Education Project / Practices of Drawing: September 18, 2013 – October 10, 2013
Courtesy of Nanjing University of the Arts, for further information please visit www.njarti.edu.cn
Related posts: