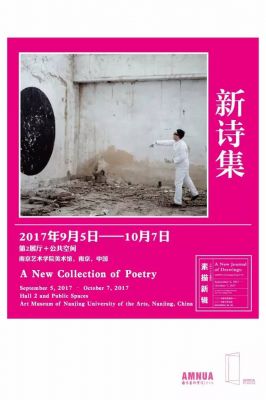 This exhibition presents artists who are making important strides in the realm of drawing. After researching these artists, we have edited a sampling of their work, in order to present a considered study of the current state of drawing. The entanglements between literature, narrative, and (traditional) drawing forms make up the expressive threads of this exhibition.
As an artist whose primary (painted) works and sources come from or are inspired by painting, when I am asked these questions, I often wonder: where is the necessary division between drawing and contemporary painting (on paper) and other experimental and "democratic" art forms, and between (easel) drawing and "flow drawing" works or performances that are presented or installed in public spaces? How should we define and discuss the proliferation and role of the sculptures, animations, performances, and their traces, which use drawing as a method or contain physical drawings?
Drawing is a form of expression marginalized by the market, so it could be called a new and vital contemporary "arte povera." In fact, in a contemporary moment in which multi-media is the expressive norm, as an artist, placing painting, or drawing, within an expressive framework is important. In this way, the artist can then choose the simplest materials, tools, and methods according to structural and thematic needs.
Instead of saying that I see these works and practices as drawing (experiences), a statement that may cause controversy despite the clear links to drawing, it would be better to say that I want to see them as (the halo of) drawing; I believe that these works reflect the pursuit of art's true nature and lionize artistic quality.
As a curator, I think that the selection of artists is a viewpoint and a concept in itself. The rest can be left to the artists' conflicted self-realization. I delight in seeing a future that is firm, sensitive, popular, growing, and perceptual, and I am fascinated by the intermediate state presented by (works of) drawing. For example, there are drafts, which are paintings in a specific mode, there are paintings (installations) that rely on the experience of drawing, and there are formal, complete drawings. Push these works forward and add a plot, and we arrive at drawing-related videos and performances, and their documentation or films. Permitted and inspired by the contemporary moment, traditional plastic media are infiltrating one another, controlling one another, and reconstructing one another, which results in the synthesis of new artistic media. This is a fascinating and worthwhile intermingling for members of the artistic community, reflecting the true vitality of art.
Curator's statement, Yu Aiju
About the exhibition
Dates: Sep 5, 2017 – Oct 7, 2017
Venue: Art Museum of Nanjing University of the Art
Courtesy of the artists and Art Museum of Nanjing University of the Art, for further information please visit www.nuamuseum.org.
Related posts: