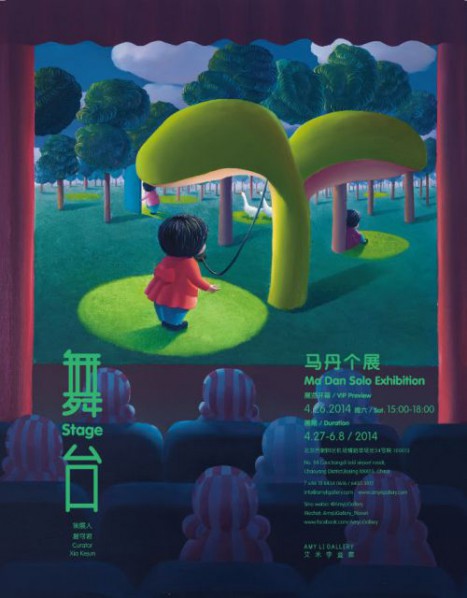 Amy Li Gallery will present young artist Ma Dan's third solo exhibition "Stage" on April 26, with the famous PhD Dr. Xia Kejun as curator. Ma Dan graduated from the School of Art and Design of Yunnan University in 2011. She currently works and lives in Yunnan.
"Ma Dan is undoubtedly a lucky artist." Xia Kejun said, "It's only in the art of painting that time will stop, pause at a certain moment of memory, a favorable moment, but also gentle side of memory; and for a female artist, if she has always been accompanied by her childhood, if the brilliant atmosphere of childhood is lingering in her dreams, this is time promising the gift of happiness."
In Ma Dan's painting there is always a pocket-sized version of a small girl that representing herself. This little girl is always turning her back to us, she does not communicate with people outside the painting, as if she was deeply immersed in a world that belongs to her. But even if she deliberately keeps alienated from the world, it is not merely an expression of her disregard for our world, it is just a compulsive yearning for a world of pure innocence and nature. Ma Dan's childhood was away from her parents and the city, living a rural life in a small town, which has opened the world of nature to her, in her alienation she could turn around and see another world.
"Nature" and "space" have always been the two main threads of Ma Dan's creations. Her portrayals of pastoral innocence express her faith in nature. The "Warm Mound" series of works is an important part of the "nature" series, in this idyllic world with its southern style warmth, soft green, ripe fruits, clumsy little animals, everything is fresh. That is her paradise, and one seems to be able to follow her and smell the fresh air in the countryside. A paradise akin to that of the French painter Rousseau, clumsy and juvenile, marked by the fantasy of merging with nature, and in which getting close to animals stimulates an endless love. The "Space" series is another type of works, completely different from the countryside life; she even wants to build this world as a permanent stage, not only in the countryside life, but also in the interior life, to create a stage according to her own inner heart, so that her own loneliness and alienation can be dramatized on stage. Of the painting "Stage", Ma Dan said: "There is such a special stage, on which the performance is entirely according to my rhythm, not only me but the people around me as well. When the cadence is in accordance with my wishes, in fact I'm the only one that exists, and so there are several me imitating myself who appear, and this other me or these several other me occasionally accompany, debate, compromise with you while me, I have never be an onlooker of myself, and perhaps there are no onlookers." Ma Dan arranges her own space, she seems to try to establish a link between the interior space where people are enclosed and nature's idyllic space, using an "imitate thyself" way trying to understand herself and to search in the field of ignorance the once neglected but precious things.
This exhibition by Amy Li Gallery shows the new works of Ma Dan after two years of maturation, and for the artist, we can see her yearning for the essence of life and her pursuit of artistic creation, steadfast and determined. In this spring, on Ma Dan's natural "Stage", we can watch a performance of the most pristine and most innocent world.
About the exhibition
VIP Preview: 15:00-18:00, April 26(Sat), 2014
Duration: April 27 –June 8, 2014
Venue: No.54 Caochangdi (old airport road), Chaoyang District, Beijing 100015, China
Tel: +86 10 64340616
E: info@amyligallery.com
Courtesy of the artist and Amy Li Gallery, for further information please visit www. amyligallery.com.
Related posts: