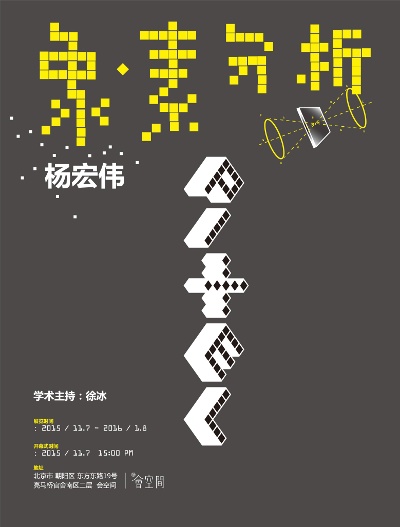 Nowadays it can be called a screen facing society. With the use of computers, a variety of information has been changed into pixels to further analyze and process them. Paintings then transfer images into numbers through "scanning", this is exactly a process of changing images into pixels. Yang Hongwei's upcoming exhibition "Analysis of Pixel", includes his series of "Analysis of Pixel" he has created in the past three years. The integral idea of his work comes from the traditional Chinese culture of movable print, and it combines the core concept of the contemporary digital matrix. Thus the work is composed of woodcut printmaking languages from western traditions.
In the form of prints and installation, his work reinterprets the meaning of images and characters. It is full of fun and has a sense of thickness, and the "dialogue" between this kind of art and pixels extends the historic evolution of art history, from the perspective of an unprecedented expression, it conveys the contemporary feature of printmaking art.
The key to art lies in the core of contemporary civilization. Yang Hongwei captures the most original language in his art creations, which are precisely the sparkles enlightened by the collision of the most contemporary, the most advanced and the most central things. He adopts the concept of visual psychology in the series of Analysis of Pixel. In a simple but unprecedented manner he pushes the printmaking to an unknown extent and creates unique and stunning artworks. His art practices provide more possibilities for the development of contemporary Chinese art and open up more space for further development.
"The project 'Analysis of Pixel' touches the plurality of the art world, the core no one touched before, which pushes forward the possibility of extension in art language," said Xu Bing, who serves as the academic adviser.
About the exhibition
Duration: November 7, 2015—January 8, 2016
Venue: Hui Gallery
Opening: 15:00, November 7, 2015
Courtesy of the artist and Hui Gallery, translated and edited by Sue/CAFA ART INFO
Related posts: