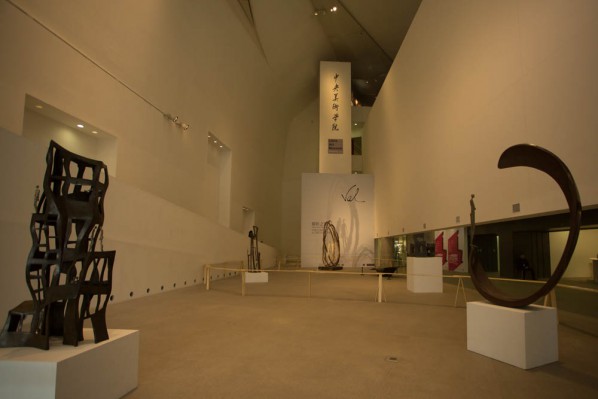 On March 12, 2016, CAFA Art Museum launched a grand opening ceremony of "Anatomy of a Creative Path – French Artist VAL Sculpture Exhibition", after it had been on display at CAFA Art Museum for many days there was a summary and review of the sculptural creations by the French female artist VAL over more than 2 decades. The exhibition is hosted by the Office of International Cooperation and Exchanges at CAFA, organized by CAFA Art Museum, and also heavily supported by the Philip Gallery and Yishu 8. Deputy Party Secretary of CAFA Wang Shaojun, Director of CAFA Art Museum Wang Huangsheng, Director of the Office of International Cooperation and Exchanges at CAFA, Director of the Office of Collaborative Innovation Yue Jieqiong, founder of Yishu 8 Christine Cayol, Art Director of Philip Gallery Pascal and other honored guests attended the opening ceremony of the exhibition.
The sculptural artist VAL has never studied in an academy of art, she was born in France in 1967, lived her youth and adolescence shuttling between South America, Africa, Europe, and then she was as an ordinary urban white-collar worker engaged in marketing in Paris, so there seems that there is not any opportunity for VAL to get acquainted with art, but her heart had a unique artistic sensitivity to art, and it was activated by an inadvertent collision. One day, she casually visited her artist friend's studio, VAL experienced the touch of clay for the first time, the tactility and material of clay infinitely guided her to explore the inner aesthetic appeal. Then she learned from an artist for two years, through tireless hard work and understanding the ability to obtain the confidence in creation and to give her a greater possibility to freely create. In 2004, VAL set up her workshop in Thailand and began to practice making creations in bronze. In April 2004, for the first time, she exhibited in Bangkok. VAL's sculptures travel across Asia, meandering through megalopolises such as Hong Kong, Singapore, Shanghai and Taiwan. Her noticed participation at the Shanghai Art Fair 2010, together with the unveiling of a monumental sculpture named Urban Life as part of the Jing'An International Sculpture Project, established VAL's reputation amongst renowned sculptors.
Deputy Party Secretary of CAFA and sculptor Wang Shaojun addressed the opening ceremony and highly praised the art of VAL: French culture is romantic and inclusive, is one of the most attractive countries in the world's multi-culture. VAL is an active artistin contemporary France, her works are presented as she enters Asia, to explore the charm of cultural exchange between the West and the Orient. Exploration of the relationship between people and nature, people and society, as well as the relationship between humans, are the subjects many contemporary artists are commonly concerned with, VAL has traveled to many countries which makes her encounter broader experiences and touch multi-cultural aspects throughout the world, so that, she has a deeper spiritual experience in the thematic exploration, as an artist, through creation she constantly reflects and searches for the solution and channels many problems felt through humans' existence, and this tries to give her answers. At the same time, her works present humans' individual states in different times and space, to freeze the instantaneous state of humans in different space and time, so that we can experience the internal thinking and rich emotion in the work.
Seeing VAL's sculptural creation, we can intuitively perceive that she pursues the themes including "space", "balance" and "spirit", the works apply bronze to outline crisscrossed and connected lines, and the arc lines build an unlimited growing space, interspersed characters in the space present Giacometti's formal aesthetic sense, these characters are short of depicting the facial lines, but revealing urban people'smental situation,through the integrated relationship between the characters and lines, the work looks for a balanced state of the body. In the artist's own words, "My work is a pursuit of balance, and everyone is looking for the balanced point in life." For her engaged sculptural creation, VAL describesit as "walking a tightrope, taking the risk of dropping to move ahead", she uses sculptures to express herself, and constantly changes the methods, and never fixing it, she seeks the life force in every piece of sculpture, feeing the balance of every moment, it is like the feeling of the arrival of happiness. Founder of Philip Gallery was ill so that he could not attend the exhibition, Art Director of the gallery Pascal conveyed congratulations to the exhibition on behalf of him, Mr. Philip evaluates the works of VAL with a simple explanation,this led people to immediately understand, because we feel subconsciously it is the language of life rather than a shaped work.
Sculpture is powerful and sings with a cosmic connotation. It was born from silence, created in solitude, separated from the outside world to help the work move towards reality. The exhibition remains on view till April 4, 2016.
Courtesy of the artist and CAFA Art Museum, translated by Chen Peihua and edited by Sue/CAFA ART INFO.
Related posts: