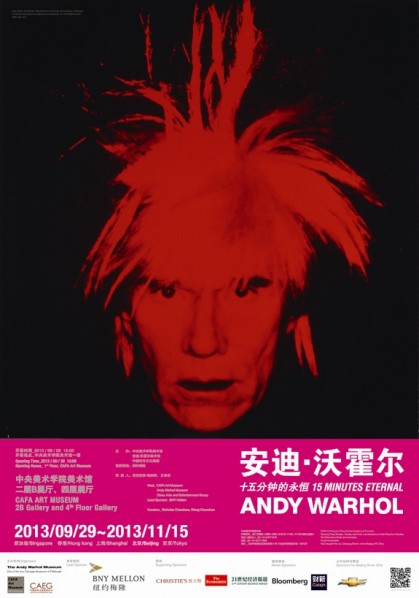 Traveling exhibition of Andy Warhol: 15 Minutes Eternal presented by the Andy Warhol Museum is going to open at the CAFA Art Museum in Beijing.
Andy Warhol: 15 Minutes Eternal is the largest retrospective of Warhol's artwork to travel to Asia, spanning his career from the 1940s to 1980s. The exhibition is arranged by decade and features more than 300 paintings, photographs, screen prints, drawings, and sculptures. Iconic works in the exhibition include Jackie(1964), Marilyn Monroe(1967), Silver Liz(1963), Mao(1972), Campbell's Soup(1961), and Self-Portrait(1986).
"Fascinated by the glitterati, Warhol remains a complex and often misunderstood persona 25 years after his death, whose artwork depicting consumer objects such as Heinz ketchup boxes, and paintings of Marilyn Monroe and Mao Tse-Tung have been imprinted into our collective consciousness," said Eric Shiner, director of The Warhol.
Shiner added: "We are thrilled that BNY Mellon is bringing the life, work and creative genius of Andy Warhol to cities across Asia. This remarkable and extensive collection celebrates anew someone whose life and work define the concept: fame is fleeting, art is eternal."
About The Andy Warhol Museum
Located in Pittsburgh, Pennsylvania, the place of Andy Warhol's birth, The Warhol is one of the most comprehensive single-artist museums in the world. The Andy Warhol Museum is one of the four Carnegie Museums of Pittsburgh. Additional information about hte Warhol is available at www.warhol.org.
About the exhibition
Duration: 29 September – 15 November, 2013
Opening: 29 September, 15:00
Venue: CAFA Art Museum, 2B Gallery and 4th Floor Gallery
Related posts: