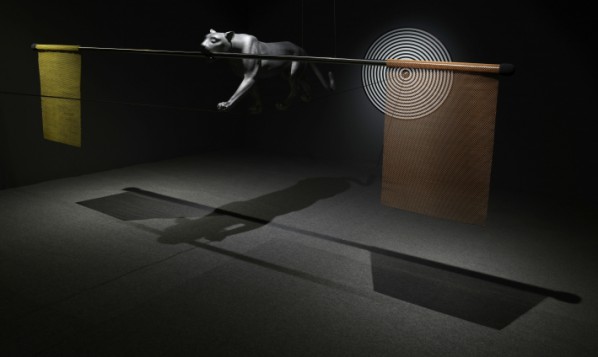 Arario Gallery is proud to present the solo exhibition by the leading Chinese artist Gao Lei, opens on November 21, 2014 in ARARIO GALLERY Shanghai, China. This is Gao Lei's second solo exhibition in ARARIO GALLERY, after the Projections (2013) in ARARIO GALLERY Seoul Space.
Some pieces of artworks shown in this exhibition are selected from Gao Lei's recent solo exhibition at Museum of Contemporary Art, Taipei. The work Room-106, which title originates from one of the museum spaces in MOCA Taipei where this work was first exhibited for the specific structure and background of the space. The MOCA is a historic building, founded as a primary school during the Japanese colonial period, and was selected as the City Hall of Taipei government in 1945. The classrooms and offices are transformed into exhibition spaces nowadays, which as part of the art museum expresses its historic significance. The leopard from Gao's previous work A-102, symboled nature and wild, but now stands inside an intersection space of knowledge and power, suspending on the wire as in circus training with a steel tube hanging to maintain balance. At both ends of the tube, two flags as two different parties of power seems to make the balance more stable. For this exhibition, Gao re-design the work for the space at ground floor, offering audience the new impression of ARARIO space.
Withdrawing the original elements and functional properties of daily objects, Gao Lei's practice incorporates the transformation and combination of them, by highlighting the combined relationship between orders and chaos, coldness and emotion. Gao's works are continuously introducing a strong resistance to daily routines and doubts about future trends. With his depiction of all kinds of distinctive objects and events, he highlights distortions, imbalance, and divisions caused from the rapid development of the society. In the isolated and alienated works, the artist prompts the viewers to reexamine and evaluate the different standards applied among us and the world.
About the exhibition
Duration: 2014. 11. 21 (Fri) – 2015. 2. 8 (Sun)
Venue: 1-2, 320 Tianping Road, Xuhui District, Shanghai, China
Courtesy of the artist and Arario Gallery, for further information please visit www.arariobeijing.com.
Related posts: