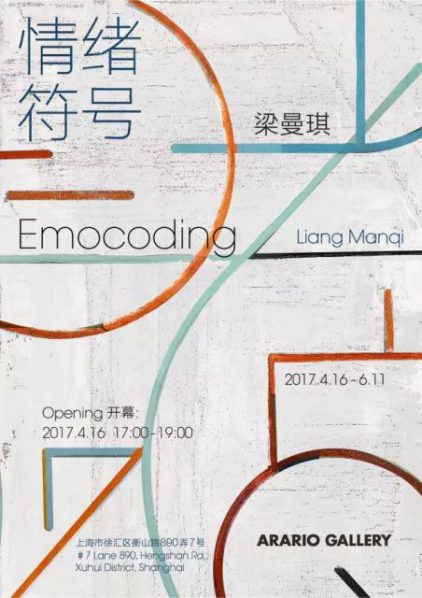 ARARIO GALLERY is delighted to announce the opening of Liang Manqi's solo exhibition Emocoding on April 16th, 2017. The exhibition will present the artist's most recent body of work. Adopting two-dimensional paintings as the primary clue, utilizing installations, site-specific paintings, and even the architectural structure of the space as her media, the artist is intended to connect, intervene, and complement the exhibition space with her works of art. The artist uses a playful visual language to break the boundary between the physical space and object, where the line, color, and form extend from the canvas into the real space. The seemingly logical visual symbols on canvas are balanced through the artist's abundant sensibility and emotional order. Liang Manqi takes the geometrical shape and color as a method to understand herself and her surroundings, as well as the passage to embrace the psychological uncertainty, contradiction, and conflict that are regarded as the new undertakings of her art practice.
In her further exploration of artistic language, Liang Manqi's artworks do not intend to induce audience's consciousness to reminisce some moments from real life. On the contrary, the abstract space engendered is beyond any specific experience. We can reconstruct the artist's embedded pictorial discourse and expect to discover the artist's elaborate intention. Yet, these clues are not found in her uttered words, rather, they are saturated into the lines, shapes, and color that are scattered on canvas and real space. Therefore, as we enter an exquisite world of images, we naturally come to recognize her deliberate appropriations from the world within and beyond herself, and aim to understand that which inspires the artist. With all the efforts, Liang explores the world where all elements such as space, color, light, proportion and shape may be defined, stated and conceptualized in certain contexts and practice.
About the exhibition
Dates: April 16 – Jun 11, 2017
Opening: April 16, 2017, 17:00
Venue: Arario Gallery
Courtesy of the artist and Arario Gallery, for further information please visit www.arariogallery.com.
Related posts: