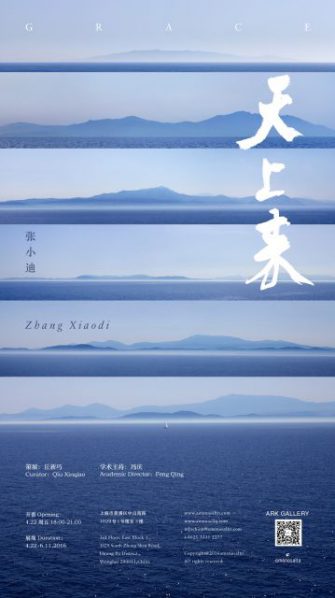 ARK Gallery is proud to present the exhibition "Grace – Photography and Video Works by Zhang Xiaodi." The opening reception will be held on April 22, Friday, 6-9pm. This exhibition features Zhang Xiaodi's photography and video series of "Contemplating the water," "Po Hexagram," "Seize the Day" and "The Bridge."
The highest good is like that of water. Water exists above. It is the heaven. The heaven envelops all beneath. Water is the intimate force between heaven and earth, high and low, yin and yang. This stable order keeps the force of life flowing in a steady stream. Heaven acts to pass a bright and pure air onto you and me, beings with bodily form. We, in turn, are to tranquilly observe this air that is interwoven by water and wind, so that we can rediscover the hidden path that will lead us back to the heavenly way of things.
What is the behavior of contemplating the water? This is a question that Zi Gong put forward for Confucius: "What is the reason for gentlemen to admire every large river they see?" For this question, Confucius gave him a series of powerful answers. Now, in this age when all solid things are completely vanished , Zhang Xiaodi's "Contemplating water" has become a kind of effort to confirm the answers once again.
Water brings people all together in the name of closing to love – Just because that people who live in different spaces drink the same water from the same river, they will have some connection in their souls; as well as letting their common sentimental feelings flow like water. This kind of connection is like that of two water drops blending together, however with power, the blending process is freer than that of human blood. In this sense, contemplating water also means finding the possibility for people to live together.
2016
About the exhibition
Date: April 22 – June 11, 2016
Opening: April 22, Friday, 6-9pm
Venue: ARK Gallery
Courtesy of the artist and ARK Gallery, edited by Sue/CAFA ART INFO.
Related posts: