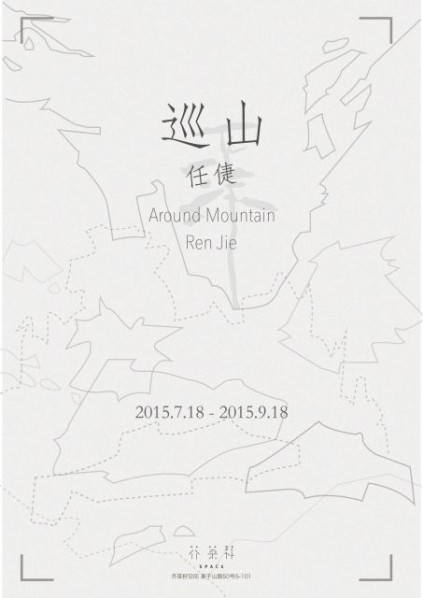 The First impression of Mustard Seed Space in Ren Jie's mind is a poem: "I include the Sumeru Mountain into a Mustard seed". She appreciates the rich interior layers in this unique space, and thus hopes to "grow" her work by developing the plan and space structure. As she includes the small space into her own creation, the space becomes the earth for her work, which grows naturally from the space. The space and her work thus rely on each other with depending characteristics.
"Around Mountain" is the metaphor for her methodology of creation, which is as well her discovery in this art project. "When we are physically in the space, while ignoring where we are, we finally get to re-inspect all around us. This is an involuntary process." She had employed many different methods to abstract structural characteristics in this small and geometric space: observing special correspondence, displacing plan structure, penetrating physical partitions, or redefining structural elements. As her comprehension and perception of the space grows deeper, these methods are more and more enriched. These "rules" set up by the space had been making her creation like a game or a mission. In the iteration of her creation, she tried and started over again with joy and meaning. To her, "this might be a creation that never ends".
In terms of materials, Ren Jie utilizes minute but organic daily matters to build up the texture of her works, including papers, ink, plants, wax, wire ropes and textiles. It is thus in the space, the materials provoke conversations carrying their texture and hand making marks with space geometry. On the other hand, these daily matters become some other mustard seeds scattering in this small space, depending on each other to construct the image of a "mountain", as well as physically independent to include in them one micro universe and another.
Ren Jie is an artist who work in Shanghai and Hangzhou. After she had obtained Master's Degree in Sculpture in art college of Shanghai University in 2010,she continued her study in China Art Academy in Fiber Art Studio of Sculpture school, and obtained her Doctor's degree in 2014. She had participated in exhibitions and art projects in and out of China, with fiber as her main media of creation, while bring inside her works minute objects in our life that might often be ignored. Her works illustrate individual life experience, especially tiny forms and moments.
About the exhibition
Dates: Jul 18, 2015 – Sep 18, 2015
Opening: Jul 18, 2015, 16:00, Saturday
Venue: Mustard Seed Space
Courtesy of the artist and Mustard Seed Space, for further information please visit www.mustardseedspace.com.
Related posts: