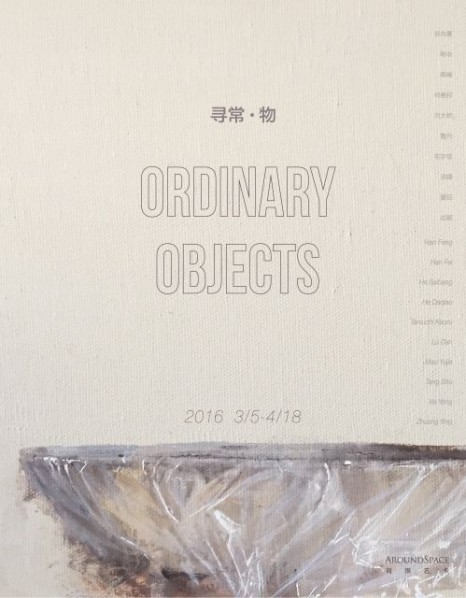 About Ordinary Objects
One century ago, Marcel Duchamp brought ordinary objects such as a snow shovel, a hat rack, or even a urinal, into an artistic context and coined the term ready-made. Before Duchamp, numerous artists had tirelessly depicted or represented ordinary objects in their art. Whether to reproduce objects, or to reuse them, artists will hardly be separated from ordinary objects. In his dissertation, The System of Objects, Jean Baudrillard quoted one of the definitions of "object" from Littré's dictionary, "anything which is the cause or subject of a passion." Indeed, the relationship between objects and human beings has been closely intertwined since the inception of human society; from creating objects, using objects, to collecting objects, the emotional involvement with objects evolved along the development of the consumer society.
In its first show in 2016, Around Space Gallery presents a group of artworks focused on ordinary objects. The ceramic objects handcrafted by Taniuchi Kaoru are exquisite; abstracted from any function, they are transformed from the stage of being used, to being possessed and treasured. Lu Dan paid homage to the realistic tradition of old masters. On his canvas, we unexpectedly discover the most ordinary objects, fish, meat or vegetables covered by plastic wrap. Lu meticulously represented every fold and reflection of the plastic wrap with honesty. He Daqiao's burned briquettes simply return to the essence of objects; their bulky shapes and warm tone colors remind us of Van Gogh's early painting. Han Feng's Knockoff series is inspired by consumer products and marketing packages. These man-made objects are the bolts and nuts of a consumer society; they witnessed the development and flourishing of materialism in China in the last thirty years. The appropriation and parody of these marketing products unveil multiple social and cultural layers. Tang Shu's suitcase indicates distance and the unknown, wandering and solitude. Absent emotions are hinted in visible colors and shapes. Zhuang Ying furthered her exploration of ambiguous images in her new work, trying to capture the variation of ordinary objects in uncertain shapes. Following Duchamp's interest in ready-made, reinventing and reusing ordinary objects with passion, these artists re-contextualize the ordinary aesthetics in art with different mediums and techniques.
Artists overlook the functions of ordinary objects, but try to capture their unseen beauty. Cézanne's still life is as sublime and ageless as a Napoleonic war scene by a neoclassic painter. In these ten artists' works shown in the exhibition, whether in a quiet fish wrapped by plastic, or in a forgotten suitcase left at the corner, we realize the dignity and beauty of ordinary objects.
About the exhibition
Date: Mar 5, 2016 – Apr 18, 2016
Opening: Mar 5, 2016, 16:00, Saturday
Venue: Around Space Gallery
Artists: Han Feng, Han Fei, He Saibang, He Daqiao, Taniuchi Kaoru, Lu Dan, Mao Yujia, Tang Shu, Xia Yang, Zhuang Ying
Courtesy of the artist and Around Space Gallery, for further information please visit www.aroundspace.gallery.
Related posts: