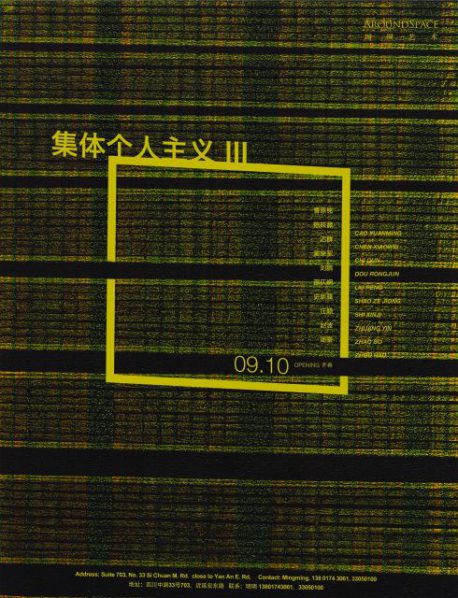 Swiss psychiatrist Carl Jung developed the concept of the collective unconscious based on Freud's studies. The collective unconscious is hidden in the bottom of our unconscious mind; it is the mark left by generations of human experience. No matter how different our personal consciousness we sometimes have similar behaviors. The collective unconscious is not forgotten, but most of us are unaware of it, as if it is the under-water part of an island.
At the beginning of the fall season in 2016, AroundSpace will present Collective Individualism III, a group show that examines ten artists' most recent practice, as well as their advancement in individual styles. The artworks included in Collective Individualism III have water, plants, and other elements as motifs, and represent the myriad aspects of living things in both micro and macro perspective. In ancient Chinese philosophy, water, as a resource that nurtures all living things, is an important root metaphor; while the lifespan of plants is also used to symbolize the rise and fall of human society. These works differ from each other in forms and styles, while collectively exploring similar passions.
Filled with black and white delicates, Chen Xiaowei's work provides an airtight visual intensity, and conveys the ubiquitous vitality of life. Chen's frequent hiking and drawing in the woods near Boston blended her art practice and nature seamlessly. The simple repeat of geometric shapes in Qun Chi and Yuanming Cao's abstract works resemble the meticulous and precise arrangements of life cells. Peng Liu and Bo Zhao are two emerging artists who debuted in AroundSpace's group show this year. Liu's bold palette enriches his canvas with the tension of primitive life. Zhao's wood block print inherits traditional skills while exhibiting a contemporary aesthetics via the micro representation of a single element, water. Post-1970s-born artist Zejiong Shao also chose water as his subject matter, although his style looks more classical, paying homage to traditional Chinese ink painting while at the same time maintaining a distinguished personal mark. The water on Rongjun Dou's canvas was rendered from a macro angle, and hence reminds us a force that can wash away everything. Hao Zhou's abstract work stands out from the rest of the artists in this show, yet we can sense his liberal attitude towards life from his minimalist composition and color. In contrast, Xinji Shi sticks with figurative painting. He painted lush plants in gardens in a darkroom-processed style that evokes a prosperous and flourishing nature. Using the most refined brushstrokes, Ying Zhuang not only approached the sensation of plants, but also pursued an integral landscape composed by individual units.
Whether abstract or figurative, on paper or on canvas, the ten artists' new works collectively turned attention to life and nature, rhythm and proliferation, which is as vigorous and ceaseless as their artistic creativity.
About the exhibition
Dates: Sep 10, 2016 – Oct 23, 2016
Opening: Sep 10, 2016, Saturday
Venue: AroundSpace
Courtesy of the artist and AroundSpace, for further information please visit www.aroundspace.gallery.
Related posts: