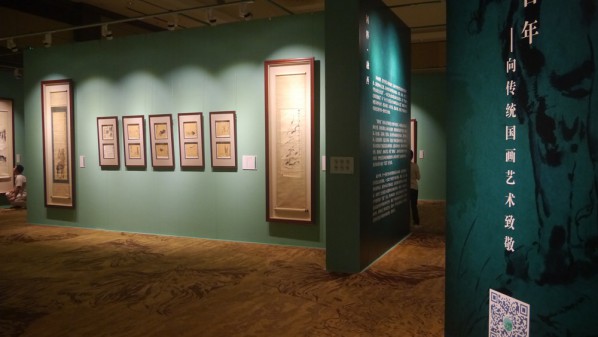 On the afternoon of January 15, 2014, the second session of the "ART SANYA" Art Festival Special Exhibition "Looking Back 100 Years: Paying a Tribute to Traditional Chinese Painting Art" was inaugurated in Sanya Yalong Bay Huayu Resort Hotel. The exhibition is an important part of the ART • SANYA Art Festival, and it is co-organized by the Sanya Municipal People's Government, Propaganda Department of Sanya Municipal Party Committee, Sanya Municipal Bureau of Culture and Sport, Sanya Tourism Development Committee, Sanya Huayu Tourism Co. Ltd., and Beijing Jiuhetu Cultural Media Co. Ltd.
Xu Zhenling, Vice Mayor of Sanya City, Li Shaojun, Vice Chairman of Hainan Federation of Literary and Art Circles, Li Ligong, former Party Secretary of Shanxi Province, Li Yuzhen, Deputy Director of Shanxi People's Congress, Standing Vice President of Shanyou Historical Cultural Research Institute, Zhou Jun, Deputy Secretary of Sanya Municipal Government, Wu Guohua, Chairman of Sanya Federation of Literary and Art Circles, Zhao Yisong, Chief Executive of Organizing Committee of ART • SANYA, Li Tao, General Manager of Sanya Huayu Tourism, etc. attended the opening ceremony of the exhibition. Zhao Yisong and Li Yuzhen each addressed the exhibition.
Sanya Art Festival launched the subject exhibition, the invitational exhibition and cutting-edge exhibition which all focused on the status of contemporary art at home and abroad, thus it launched a special exhibition to focus on the traditional, to pay tribute to the traditional Chinese painting. At the same time, the traditional Chinese painting exhibition corresponds with the "International Contemporary Art Exhibition" of the art festival, overlaying each other, not only an "accidental encounter" in time and space, but also the "accidental encounter" of different artistic spirits and features, which are in line with "accidental encounter", the subject of the second "ART • SANYA" . The exhibition showcases modern and contemporary masters' paintings in the collection of Poly Auction and Shanyou Art Museum, and is divided into four parts including the "Quintessence • Blending Western Culture", "Shanghai •Beijing and Tianjin", "Lingnan •Chang'an •New Jinling" and "Three Masters Across the Strait", showcasing more than 130 selected works by more than 50 well-known artists including Ren Bonian, Wu Changshuo, Qi Baishi, Zhang Daqian, Huang Binhong, Xu Beihong, Pan Tianshou, Fu Baoshi and so on. Some artists absorbed nutrients from the old Chinese cultural interior, on the basis of sticking to the "old" tradition, pursuing change and opening up a fresh outlook; some people opened their arms to embrace and blend the principles and techniques of Western art, creating a "new" tradition. Together with a variety of painters of the time, they created a new era that was of the biggest change, greatest innovation, widest theme, and most abundant skills.
Since the Second ART • SANYA Art Festival was held in Sanya Bai Hua Gu Commercial Center • Yalong Bay Huayu Resort Hotel on December 6, 2013, it has created an excellent effect. Li Shaojun, Vice Chairman of Hainan Federation of Literary and Art Circles said at the press conference: Sanya Art Festival has been focused on by national art circles since last year, on the one hand, it opened up the local artists' vision of Hainan, and more importantly it promoted Hainan to form its own artistic tradition, making Hainan become a symbol of Beauty in the new century, showcasing both the beauty of the scenery and art. Zhao Yisong, Chief Executive of Organizing Committee of ART • SANYA said Sanya art festival was a long term art project which would be continued. Asked about the future development of the activities, Zhao Yisong said there were various art events across the nation, such as "Art Beijing", "Art Changsha", etc., Sanya art festival had been successfully held twice, and it would also continue and be attentive to discover more new young artists, creating more possibilities for Chinese art.
The exhibition began on January 15, going through to February 16, 2014.
Text and photo: Zhang Wenzhi/CAFA ART INFO
Translated by Chen Peihua and edited by Sue/CAFA ART INFO
Related posts: