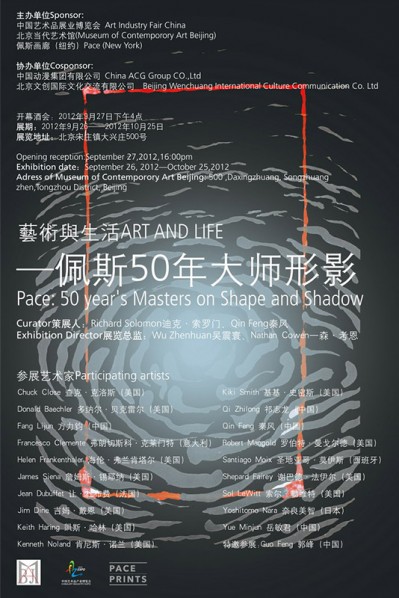 September 27, 2012, the Museum of Contemporary Art, Beijing was pleased to announce the opening of "Art and Life—50 Years of Silhouettes of Masters Represented by Pace Gallery" exhibition. Jointly organized by the Museum of Contemporary Art, Beijing, China Art Industry Fair, Pace Gallery (New York), it is sponsored by the China Animation Group Co., Beijing Wenchuang International Culture Communication Co., Ltd. The exhibition brings together works of 20 Chinese and foreign artists. In addition to two installations, the exhibition highlights all the original prints of artists at home and abroad, many of whom are masters of Chinese contemporary art such as Fang Lijun, Yue Minjun, Qi Zhilong, Qin Feng, etc and renowned American artists such as Kiki Smith, Jim Dane, Yoshitomo Nara, Chuck Close and so on.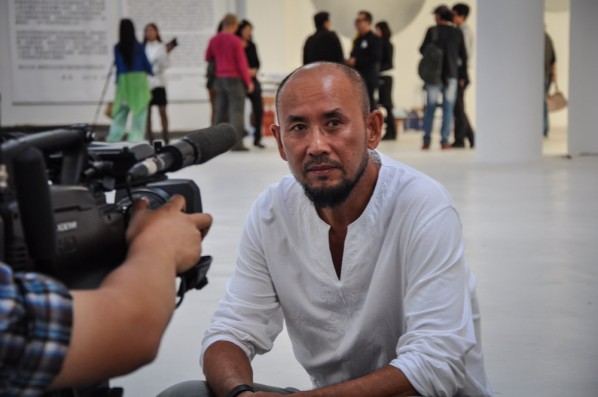 Qin Feng, founder and curator of the Museum of Contemporary Art, Beijing told the reporter of CAFA ART INFO that this exhibition in cooperation with Pace Gallery was to promote a concept, intending to affect the professional conduct of the entire printmaking industry by exhibiting the works created by international masters of printmaking. Wu Zhenhuan, Executive Director described the overview of the Museum of Contemporary Art, "it is a nonprofit space designed and founded by Mr. Qin Feng, an artist and art history researcher who is dedicated to a cultural ideal. It is conducted to provide a public exhibition space for his favorite artists, sorting out and exploring the relationship between Chinese traditional culture and contemporary artistic creations."
Photo of Exhibition Views: Hu Zhiheng/CAFA ART INFO
Founded in May 2007 by internationally renowned artist Qin Feng, the Museum of Contemporary Art, Beijing (北京当代艺术馆 Beijing MOCA) seeks to promote the appreciation of contemporary art, both Chinese and international, and to create a dialogue between the East and the West. Through exhibitions (three times a year), education programs, scholarships and scholarly initiatives, and collaborative relationships with other museums Beijing MOCA hopes to bridge the gaps among the conceptual, the scholarly, and the artistic.
Beijing MOCA is a non-profit organization. It publishes a museum journal, exhibition catalogues, and hosts a contemporary art website, providing up to date and comprehensive information about contemporary art. Beijing MOCA welcomes support from individuals as well as foundations.
The Beijing MOCA founder Qin Feng had founded Ammonal Gallery in the early 1990s, the first privately owned gallery in China, and the Center for Chinese Professional Art, also the first of its kind. The two venues were unfortunately shut down after one year of their respective existence. Beijing MOCA is a continuation of the two venues in their effort to support art that is cutting edge, thought provoking, and sophisticated.
Since the early 1990s, Qin Feng has devoted himself to the advancement of art and of fellow artists. Beijing MOCA is a platform through which exciting new works can be presented, important dialogues can be brought forward, and a deeper understanding of contemporary art is made possible.
About the Exhibition
Exhibition Dates: Sept 26—Oct 25, 2012
Venue: The Museum of Contemporary Art, Beijing
Address: 500 Daxingzhuang, Songzhuang Zhen Tongzhou District, Beijing
Curator: Richard Solomon, Qin Feng
Artists: Chuck Close, Kiki Smith, Donald Baechler, Qi Zhilong, Fang Lijun, Qin Feng, Francesco Ciemente, Robert Maggold, Helen Frankethaler, Santiago Moix, James Siena, Shepard Fairey, Jean Dubuffet, Sol LeWitt, Jim Dine, Yoshitomo Nara, Keith Haring, Yue Minjun, Kenneth Noland and Guo Feng( specially invited).
Image Courtesy of the artists and The Museum of Contemporary Art, Beijing, for further information please visit www.bjmoca.com.
Related posts: