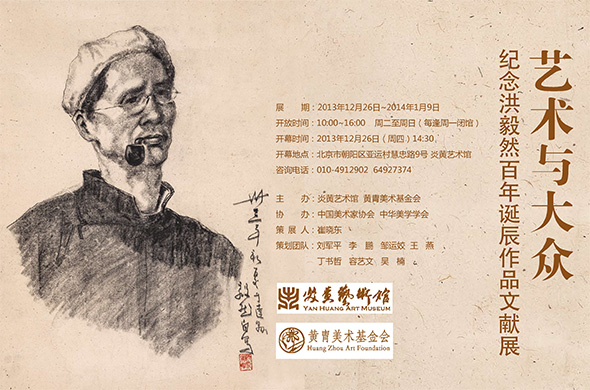 Hong Yiran (洪毅然,1913-1989), originally known as Hong Zhihou, also known as Jiyuan, Daren, born in Da County in Sichuan Province, was a well-known Chinese aesthete, art theorist and painter in the 20th century. Graduating from the Department of Painting, National Hangzhou Art School in 1937, Hong Yiran taught at the Sichuan Provincial Art School, Northwest Normal University, Lanzhou Institute of the Arts, and served as the Director of the China Association of Aesthetics, member of China Artists Association, Distinguished Researcher of the Research Institute of the Arts, CAFA, he successively created paintings including "Flood", "Post-War", "Blacksmith", and publications including "The Theory of Self-Cultivation of Artists", "New Aesthetic Criticism", "Aesthetic Debate", as well as nine articles, such as "Kuangyin Volume" which was never published.
Although he was well-known as an aesthetician, art theorist in art circles, his artistic creative achievement has been overlooked. "Art and the Mass – Exhibition of Works and Literature to Commemorate the 100th Birthday of Hong Yiran" was the first large-scale exhibition of work and literature of Hong Yiran, on the one hand, it reflects his achievement and contribution in aesthetics and the art theory of Hong as a theorist, on the other hand, it is an attempt to showcase the identity of the artist especially work that has not been seen before.
The exhibition showcases Hong Yiran's works (most are drawings of portraits, while his Chinese paintings mainly include the traditional four gentlemen plum, orchid, bamboo, chrysanthemum), which are selected from about 300 existing works, comprehensively displaying the artistic creative style and achievement of Hong Yiran. It is certain that a large number of first-hand pictures and literature of Hong Yiran offer the audience a rich and stereo impression of Hong.
About the exhibition
Duration: December 26, 2013 – January 9, 2014
Opening Hours: 10:00 – 16:00 on Tuesday to Sunday
Opening Reception: 14:30 pm on December 26, 2013 (Thursday)
Hosts: Yan-Huang Art Museum, the Huang Zhou Art Foundation
Curator: Cui Xiaodong
Curatorial Team: Liu Junping, Li Peng, Zou Yunjiao, Wang Yan, Ding Shuzhe, Rong Yiwen, Wu Nan
Courtesy of Yan-Huang Art Museum, translated by Chen Peihua and edited by Sue/CAFA ART INFO.
Related posts: