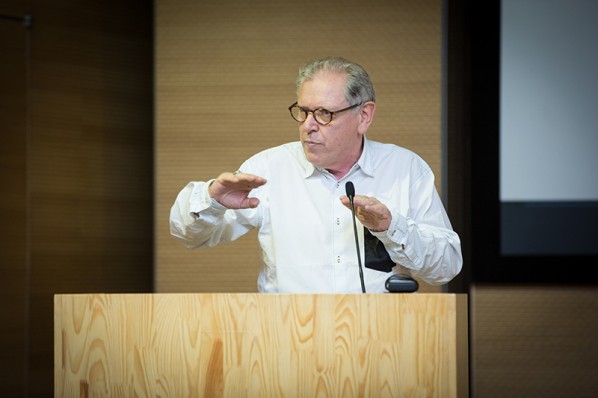 At 18:00, June 26, 2013, David Elliott, an internationally renowned director, curator, critic and scholar, gave a lecture entitled "Art as a Virus – Patterns of Production, Transmission and Reception in Art" in the Auditorium of CAFAM, presided over by Wang Huangsheng, Director of CAFAM.
David Elliott served as the Director of Modern Art Oxford from 1976 to 1996; the first Director of Tokyo's Mori Art Museum in Japan from 2001 to 2006; the first Director of Istanbul Museum of Modern Art in 2007; the Director of Museum of Modern Art, Stockholm, Sweden from 2008 to 2010; Art Director of the 17th Biennale of Sydney; Art Director of the 1st Kiev International Biennale of Contemporary Art.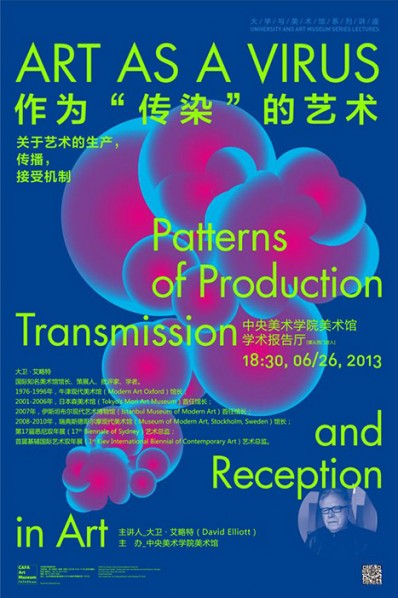 Mainly starting from the broader historical, geographical and political visions, David Elliott explored the issues of artistic production and acceptance. The starting point was to explore how the concept of art had always spread through culture like a virus, and in this process, a new stimulus momentum is generated. Thus, David further analyzed the indigenous culture, colonial art, and cultures and art states of Inner Mongolia, Brazil, China, Japan, etc., under the universal Western value and globalization ideology, from the perspectives of society and artist, in order to express respect for equality and independence. David initially talked about the interlinked nature between art and the virus. A virus is not only an incentive to a disease, but also an important pattern for evolution, here, it was considered as a metaphor, referring to how a motif and style spread. Meanwhile, a virus also symbolizes conflicting ideas such as good and bad, rotten and revival, because according to the different environments, the effects of the virus may be interpreted as either harmful or beneficial. David said, it gives art a "subversive" character, especially with the angels of dissemination and transmission; it was highly unpredictable and uncontrollable like a virus.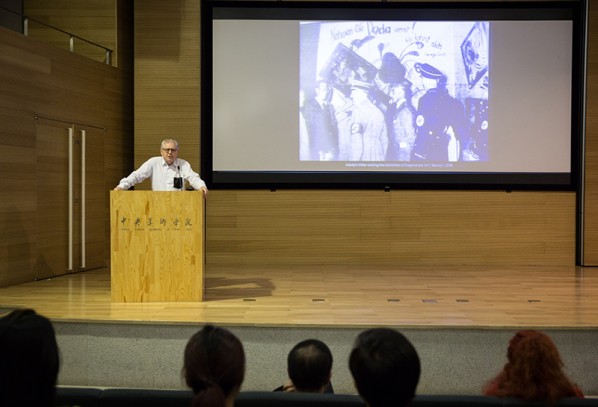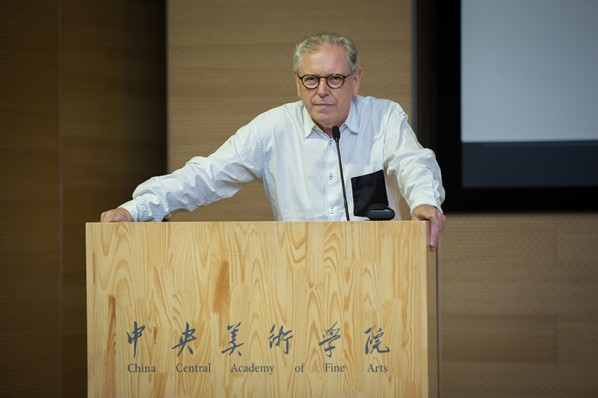 It was because of the unpredictable feature in artistic communication and multiplication, that he believed, the "isolation doctrine" was completely wrong and harmful.
It is impossible for Western "modernity" value to be popular, even if the West continued to strengthen their own value system across the world, under the guise of universalism, there are still unique ethnic and regional cultural systems, which are hard to control under the Western value system. In addition, David also noted that the world was in a period of change of force today, the once Western hegemonic system would gradually be replaced by the balanced development of various forces across the planet, making the so-called cultural hegemony existence more difficult.
Following on from this David showed a number of indigenous artworks from related artists, it was visible in their art that the relationships between aboriginal people and the colonists were tense, in addition to the recapturing and display of indigenous culture within contemporary art. Then, citing some examples, he briefed the audience on the situation of Western absorption of cultures around the world, although the foreign artists might have never really understood Chinese culture, they often gave their understanding and reflection on the cultures of China and other districts of the world.
Subsequently, David said Western approaches in artistic performance had influenced the artistic forms of Japan, China, India, Brazil, etc. he cited several pieces of works by Japanese artists, including Kuroda Seiji's "Lakeside" (1897); Kawara' s"I am Still Alive" (1979); Hokusai Katsuhiko's "From Young Pine Sapling" ( 1824); Yanagi Miwa's "Windswept Women: The Old Girls' s Troupe 2" (2009) and so on. And he talked about some impressive Chinese artists, including: Gu Wenda, Xu Bing, Ai Weiwei, Miao Xiaochun and Wang Qingsong.
David concluded: since the early 1990s, art circles began to accelerate towards change, art was no longer a closed system. Along with this, art forms have become increasing digital and multimedia influenced, it was impossible to control art by a single force, instead, it has been understood and accepted in broader fields, so art played an irreplaceable role today. In addition, it was difficult to predict how art played a role, which also depended on the comprehension and acceptance of the audience in different cultural fields.
In Q & A section, David answered the questions about the issues of Chinese contemporary art and the market, digitized art, the public acceptance of art, etc.
Journalist: Yu Ya, Photo: Hu Zhiheng/ CAFA ART INFO
Translated by Chen Peihua and edited by Sue/CAFA ART INFO
Related posts: