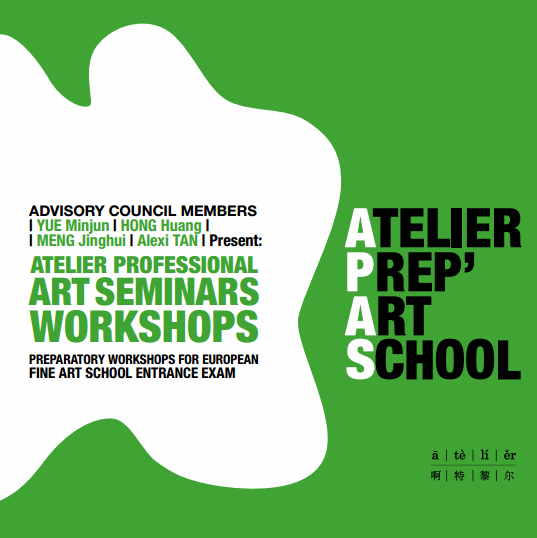 Nowadays, since the Internet social media is so developed, anyone at anywhere can implement works that he/she regards interesting and spread it rapidly. So, today's art does not necessarily exist in art museums and galleries, but is scattered around all the corners of the society, and you need only to intervene it witty and properly. Art could be the evolution of social practice from micro-intervention to micro-practice, from micro-practice to micro-action.
As the first worshop presented by Atelier Prep'Art School, "Art as social intervention" invites Ma Yongfeng as its tutor. Ma Yongfeng was born in Shanxi, China in 1976 and is a new media artist currently based in Beijing. He has exhibited widely across Europe, the United States and China – most recently in Chinese Video Now at P.S.1, New York, Becoming Landscape at Platform China, Beijing, and The Cretaceous Period at ArtSway, UK. He was selected for the Production Residency Scheme by ArtSway and Chinese Art Centre in UK from an exceptional shortlist of artists nominated by Chinese curators and professionals in 2007.
Ma came to international attention in 2002 with The Swirl, a video depicting six Koi carp being subjected to a 15 minute wash cycle in an upright washing machine. The piece was exhibited at MOCA at Los Angeles and PS1 in New York. Ma has continued to explore additional alternative realities between order and disorder in many of his video, animation, photography and installations.He is the founder of the Forget Art collective.
Atelier Prep Art School (APAS) is an original and unique curriculum in Beijing. It proposes a series of workshops and lectures led by professionals artists, art historians, philosophers, curators, critics and researchers about current research. It is not just a preparation to European Art School, it is an Artist graduated .
This series of workshops has been created by APAS professional team with the purpose to set up a high level Preparation Curriculum for Art Students willing to apply for European Fine Art School and Universities in Europe. With high intensity and quality original workshops, students will become familiar with the most advanced and original researches in creative thinking, contemporary art, architecture, art history, performance art, philosophy, photography and video art.
A unique opportunity for you to put yourself first by taking the space to engage with and develop your individual creative and critical thinking. Transform your practice, both in and beyond these workshops, by spending one day working with artists to experiment with forms of presentation and active participation; looking, discussing, questioning, sharing, doing, and making. Meet inspirational and exciting people and open your mind and creation to new ideas and concepts.
APAS Philosophy
The aim of these workshops is to:
– Push students to think and create content by constantly studying and questioning everyday's reality, in order to build a constructive and critical approach, and to develop an original thinking according to the 21st century's context in both China and worldwide.
– Challenge the young public to engage and develop an alternative and critical thinking.
– Technical skills and mediums will only be considered as tools at the service of creative and transformative practices and not the opposite.
The program will give a new light to these students about the place and the importance of art and the artistic practice in their life.
Target
This program is designed for :
students attending Art Academies and Art Universities.
future College Students willing to apply in Art or Art related schools.
students in other humanist disciplines interested in artistic questions (such as literature, philosophy, sociology, architecture, design, fashion…).
young professionals willingly to open their experience and thinking fields.
Host by/Organized by :
Atelier Prep Art School www.atelier.cn.com/apas
APAS Pedagogy Team
Artistic Director :
Alessandro Rolandi is a Multimedia and performance artist, curator, writer and lecturer. His work focuses on social intervention and relational dynamics to expand the notion of Art Practice beyond existing structure, spaces and hierarchies. He has been teaching for 7 years as a resident artist at Harrows International School. He is the founder and director of the Social Sensibility R&D Program, an innovative experimental project which brings artists in contact with factory workers and managers to develop relational art projects in the working environment. He is in charge of the workshop's program and mediator between the students, the contributor and the global project
Educational Director :
Marianne Daquet is an Artist, graduated from two French Fine Art Schools (Ecole des Beaux-Arts), she showed her work in various exhibitions in Paris, Beijing and New York. She has a 10 years experience in teaching Art in China, she is Atelier Art School's co founder and Director.
Sponsor and Venue : Ge Hua Design Museum
Media Partner : Ilook
Advisory Council : Yue Min Jun, Hong Huang, Meng Ting Hui, Alexi Tan
Prices of the workshops: 1000 rmb /workshop(discount prices for the first workshops)
Prices of the Lectures: 250 rmb/person
Language: English or Chinese (with a translator)
For further information please contact apas@atelier.cn.com, or via +86 10 64161614 +86 132 4018 4908.
Related posts: