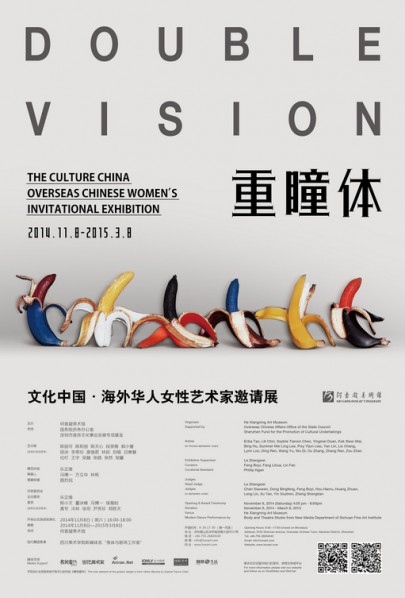 "DOUBLE Vision: The Culture China – Overseas Chinese Women 's Invitation Exhibition," a group exhibition featuring contemporary art exhibition is on view at He Xiangning Art Museum, bringing together the latest works of 17 overseas Chinese female artists. They specialize in different mediums — installation, video and photograph while they are from Singapore, the United States, Germany, Malaysia, Italy, France, Britain and the Netherlands. The exhibition will remain on view through March 8, 2015.
"When we discuss Chinese contemporary art, we are likely to exclude overseas Chinese artists," said Fang Lihua, one of the curators of the exhibition. "In some Chinese art history books, there are no chapters dedicated to artworks by overseas Chinese artists, so our goal is to move beyond 'China' as a geographical concept when discussing 'Chinese contemporary art.' Although overseas Chinese artists don't live in China, some of them create artworks from dual or multiple cultural perspectives."
The exhibition reflects issues in life and art the overseas artists confront, such as language, identity, human relations and history. In Zou Zhao's performance "Chinese Is Not a Language," she reads "Bring in the Wine," an 8th-century Chinese poem, in ancient opera style in Mandarin and English. Her English translation completely ignores grammar, which, according to her, is to provocatively ridicule the rules of the game set by the West. Zou migrated to Singapore from China when she was 6, and now she lives in Britain. Her various works examine language differences as a result of globalization. "Language is a motif that many overseas Chinese artists ponder and discuss," said Fang.
Identity is one of the most poignant issues for immigrants. Chinese-American Summer Mei-ling Lee's "Into the Nearness of Distance" features a photo of her grandmother giving up her Chinese citizenship to become a U.S. citizen in 1952. At the exhibition, visitors need to lift an old-fashioned lamp to view the photo. The piece uses a special effect to make the image fade over time. Lee said the piece presents a vivid portrait of the process of immigration and transformation of a person's identity.
Pondering human relations, especially between people from the East and the West, is also an important creative direction for artists. Zhang Ou's photo series "Daddy and Me" focuses on Chinese children adopted by American families, a widespread phenomenon that emerged after China relaxed its adoption policies in the 1990s. Zhang received permission to photograph 100 families and took over 80 photos. "Since 1991, American families have adopted more than 55,000 Chinese children, mostly girls. My project targets these families in some of the most concentrated areas in the United States, such as New York City, New Jersey, Oregon and Connecticut," said Zhang, who was born and raised in China and lives in New York City. She is a professor of photography at New York University.
Zhang said she questioned the nature of the complex relationship between a female child and a male adult through the photos, especially when different ethnic and cultural backgrounds are introduced. "The growing daughters symbolize the future potential of China. Like the girls adapting to their new environment, China is learning from the the West to develop its economy. The photo series reflects my interest in the change of power between the East and West. Through the relationships of the growing girls and their aging fathers, will it be seen as a rebellion against the rules that the West has established for others to follow?" pondered Zhang.
In the exploration of human relationships, Liao Yijun's "Experimental Relationship" is particularly incisive. The photo series completely subverts traditional understandings of gender relations. Liao said she came to have more authority and power in her relationship with her boyfriend Moro, who is five years her junior. "Moro made me realize that a heterosexual relationship doesn't have an inherent mode. I started to think seriously about alternative possibilities in heterosexual relationships. It is inspiring that human relationships do not form a permanent, unchanging chain. Relationships work best when people know their places and accept them," said Liao.
Lin Fan, another curator of the exhibition, noted that because overseas Chinese artists are beginning to position themselves against the background of a diverse, globalized culture, they attempt to encourage coexistence of multiple cultures through their art. "The art by overseas Chinese artists is related to their experiences of migration, so the interactions between multiple cultures become sources of inspiration for the artists.
Resours of the interview: Overseas Chinese artists explore multiple cultures
Courtesy of the artists and He Xiangning Art Museum, for further information please visit www.hxnart.com.
Related posts: