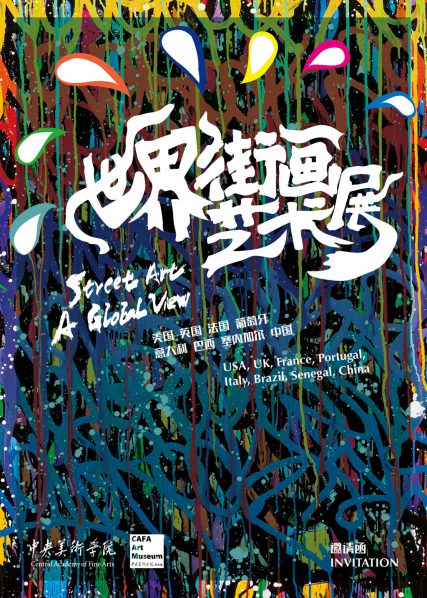 Street Art: a global view
The "Street Art: a global view" will be on view from July 1 to August 24 at the 3B exhibition hall in the Art Museum of Central Academy of Fine Arts. It is jointly organized by the Department of Mural Painting Department of CAFA and the CAFA Art Museum, in cooperation with the Magda Danysz Gallery. Street artists from Brazil, China, France, Italy, Portugal, Senegal, the US, and the UK will showcase their works. The opening ceremony will feature a live painting performance. This exhibition is an important archive exhibition of street art, where the audience can gain a better understanding of the history and development of street art.
Looking forward to seeing you!
Can you hear it? Your blood is burning with enthusiasm!
The International Street Art Exhibition comes to China!
Academic Advisor: Fan Di'an
Academic Director: Su Xinping
Curators: Tang Hui, Magda Danysz
Duration: July 1–August 24, 2016
Opening: July 1st, 2016, 15:00
Venue: CAFA Art Museum
After years of deliberation, the International Street Art Exhibition will debut at the Art Museum of the Central Academy of Fine Arts (abbr. CAFA Art Museum), which is the first time it has been held in mainland China. The Department of Mural Painting at CAFA in cooperation with CAFA Art Museum, with the great support of the Magda Danysz Gallery, will present the upcoming summer event featuring the development of international street art. So why do you hesitate to attend? Get ready to trigger your passion, rock this dreary summer with exciting artists and splattered paint!
This exhibition offers more possibilities to the traditional form of museum exhibitions: Here is an art exhibition scene, it can be realized on the streets of London or New York; here is the historical gallery, it can be the scene where true contemporary art takes place; here is the platform showcasing visual art and also it can be the field where youth culture blooms; here is the enigmatic art palace, and it can also be a public space filled with the realities of life. The exhibition has two clues: First, as the world's first street art show to be presented in an art museum in mainland China, the exhibition presents the historical literature of street art reviewing its development since the 1960s, reducing their development process so that viewers will seize the general context; meanwhile, the exhibition specially invites artists from the United States, the UK, France, Portugal, Italy, Brazil, Senegal and China, to jointly present the realistic ecology of street art and its development in the contemporary world, although they vary in nationality, color of skin, cultural background of growth and social environment, there are some seasoned artists born in the 1960s, and also some of them are influential artists born in 1990s, their collision is worthy of anticipation.
Street art is not a capricious rebellion, and graffiti is not doing as one pleases. It is a shining star in the history of art, a microcosm of youth sub-culture development. In the progress of contemporary development, it further constitutes the bridge between traditional culture and modern civilization; it constructs a platform of dialogue between a globalized process and local characteristics of civilizations, while it connects the interdisciplinary cooperation between the cultural and creative industries and commerce, integrated with a variety of artistic elements.
What do the images projected on the walls along the street talk about? What kind of world do they intend to present? And what kind of thinking are they projecting about art, about history and reality, about the personal life and public space? With these questions, this vision of street art is about to open. Exhibitions can be used to browse, it can also be used as a collection, a single exhibition is temporary, we hope that this street art exhibition will become a starting point, become the beginning, save and inspire as a driving force of contemporary street art in China.
Simultaneously, the exhibition will design related professional academic lectures and communication salons with a relaxed atmosphere; in addition, there are specially designed activities of graffiti art experience built for children, so stay tuned.
You have many ways to spend a hot summer day in Beijing, as you can visit CAFA Art Museum to view the international street art exhibition.
3 o'clock in the afternoon of July 1st, a fabulous party at the grand opening ceremony looks forward to your visit.
About the exhibition
Date: 2016/7 / 1-2016 / 8/24
Venue: Hall 3B, CAFA Art Museum
Opening hours: Tuesday to Sunday (closed on Mondays) (stop ticketing after 17:00) from 9:30 to 17:30
Address: No. 8 Hua Jia Di Nan St,, Chaoyang District, Beijing, P.R. China 100102
Courtesy of the artists and CAFA Art Museum, for further information please visit http://museum.cafa.com.cn.
Related posts: