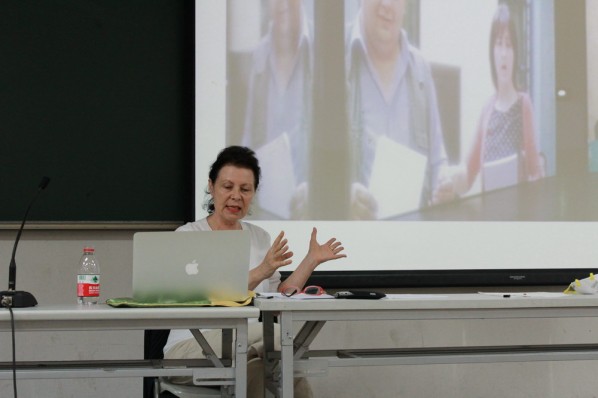 Organized by "China Art Development Strategic Study Center" of CAFA, "Art History: Going towards a New Global Dialogue Discussion Series I: Basic Theory – Boundaries and Future" was held at F1-109 classroom at 14:30, on May 6, 2013. It was presided over by Professor Song Xiaoxia, lectured by Professor Lydia Haustein, a member of the Center for International Studies of the Humboldt University in Berlin, Chairman of the Advisory Board of Austria Ludwig Boltzmann Society, and Director of the Department of Science, the House of World Culture in Berlin.
Professor Lydia Haustein said she had presented a lecture about the Kassel Documenta at CAFA last year, on how to deal with the turbulence conditions of art in an extreme way, and discussion on art from the perspective of science, sociology, philosophy, had become an important issue, which should be treated with a critical eye. Lydia believed that Western authority would end, emerging a shift in global power relations, the right might be transferred to China, India, or Africa, instead of the Western countries.
Secondly, in the era of extreme change, fracture transitions had taken place in not only the philosophy, sociology, art theory, but also all the aspects of society. She presented her philosophical insights and thinking in recent years, so that we could have a better understanding of art. Recently, people have been thinking about how to set free art from the rigid, isolated, one-sided system, how to find a new mode of artistic thinking. And she cited the works of the Dutch artist MIK and the "October" magazine (US). Lydia talked about two current situations in art development: on the one hand, art had a close relationship with sociology, philosophy, history, and society, etc. it is not simple any more, on the other hand, we should still think about what art was. She used the works by Kandinsky, John Cage and Marcel Duchamp as examples. Lydia said Professor Walter Benjamin and Agamben(Italy) were both very important theorists. However, we need to have our own thinking and theories on modern art.
Finally, Lydia raised three focuses points in current art: firstly, we had to study the theory and position of Hegel again; secondly, attention should paid to the picture science or pictures art; thirdly, on the theory, it was not necessary and unfounded to discuss whether there was an end of art, because the art history never ends, history was the presence of human beings.
It was necessary to see the new theoretical issue with the use of a global viewpoint, and it was not postmodern, nor a new surrealism. When we want to put forward a new issue, Duchamp gave us direction. In addition, American visual artist John Milton Cage had summarized some art views and positions. Theodor Wistuqrund Adorno had deeply studied the art market or art theory, proposing the concept of "market-oriented art". All kinds of images, such as photos, are called image art.
Journalist: Yu Ya/ CAFA ART INFO
Translated by Chen Peihua and edited by Sue/CAFA ART INFO
Related posts: