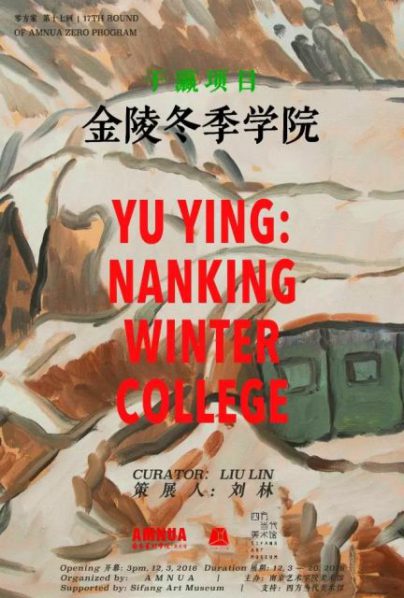 Reality is a hassle all the time. Some things happened, appeared, and then disappeared, with history buried in the lines of records becoming untrustable, like Shanghai College of Fine Arts, the Presidential Palace and Nanking Winter College. Nanking Winter College, is a college which appeared in the mirror image, and disappeared like a wisp of smoke one century ago; it is a college could only be heard among insiders, and would be discarded and rebuilt again anytime. Mirage. Baisema (boundaries) of the Stone City.
In a puzzle-like storyline design, "fictionalization" is working in my brain while cells opened a messily-embroidered map. Quotation, archaeology,archiving metaphor, metonymy, falsification. The avalanche of rhetoric stormed in. Reality, right next to virtuality, feels so disturbed, "Who is enjoying this snow by the window?"
That is a jumbled plan that will never end, however, all the fellows from Nanking Winter College still held their naive ambition, reminding people of those avant-garde artist groups in Cultural Revolution. Since 1949 until now, this school was secretly organized and never noticed.
The prime task of this exhibition is to turn something which has already happened into something fictionalized by "exhibiting" it. When floods of rhetoric were surging to the window and going to deafen my ears, I shut the curtain open and shouted, "Stop!"
An exhibition. The letter from Letter from an Unknown Woman. To suspect the whole snow scene, through a piece of snowflake.
Liu Lin sent me a proposition named College Architecture on Wechat last month. And I immediately shared a contact card to him, saying "You need to get this guy for this business."
"Qinhuai,who graduated from Nanking Winter College in 1966, is now working and living in Nanjing."
– Yu Ying
Yu Ying (b.1987), founder and member of BALCONY COLLECTIVE. In 2009, he graduated from TsinghuaUniversity (BA); In 2012, he graduated from China Central Academy of Fine Arts(MFA). He was the recipient of numerous awards, including Today Art Museum 10 Years Retrospective Special Award(2015),the Finalist of Focus on Talents Project (2011), Finalist of Chinese New Painting Award (2011), Yang Feiyun Art Award (2009), etc. He has exhibited extensively at many major museums and institutions around the world, such as Contemporary Arts Museum Houston & Asia Society TexasCenter (Houston,USA); Gaîté Lyrique(Paris, France); Mastiodellacittadella (Turin, Italy); Haus der Kulturen der Welt(Berlin, Germany); Power Station ofArt(Shanghai,china). His works were broadly collected by museums and public collections, including Today Art Museum; CAFA Museum, Beijing, China; TsinghuaUniversity Museum; Tsinghua University Museum; Hongkong Contemporary Art Museum.
Translated by Cheng Cheng
Curator's statement
The Zero Program's Space in Art Museum of Nanjing University of the Arts makes me have a sense of feeling like the meaning of its name that it is like a temporary space which floats in the college. To some degree, the Zero Program which originates from the Zero Space is created out of nothing. It appears intermittently and annihilates in the space of Art Museum of Nanjing University of the Arts. At all events, it is also a part of the college's structure. I am always interested in the interdependent and destructive relationship. Infact, till today, the three and a half years' practice of the Zero Program is accompanied by dogfight, entanglement and negotiation constantly. When I have a chance to plan a project in the Zero Space, I would like to discuss more about"herself" or something about it.
Nanking Winter College (1949-) is the past of Nanjing University of the Arts. It hides in the edge of time and space, though the edge is not important at all. The artists who hold the proposition of radical aesthetics and politics never be mentioned by people, they just like most unknown people in the history who dove straight into the emptiness to look for value and failure. Yu Ying takes the unknown "anti-college college history" from the history of Nanjing University of the Arts to delineate the people and things in the college. He takes advantages of the way what he is good at to use images to prove the history is true or false. All these people and things are filled with various feelings of "anti". Meanwhile, as a college structure or as a solid and elastic, packed and passable space which can be managed to experience, you will both find a set of transformation of control and education system. The final result is that college and anti-college as each other's ghost float in the small hall.
In some ways, Nanking Winter College is the mirror of the Zero Space or all those individuals, groups and organizations which is neither friendly nor of inthe history. However, it is difficult to distinguish which is the virtual image.
– Liu Lin
Liu Lin, curator and copywriter, lives and works in Nanjing. He is the exhibition director of Sifang Art Museum. He is also one of the main founders of Sifang Art Museum's long-term locality project "topography".
Translatedby Wang Lu
Dec, 2016
About the exhibition
Dates: Dec 3, 2016 – Dec 20, 2016
Venue: Art Museum of the Nanjing University of the Arts
Courtesy of the artist and Art Museum of the Nanjing University of the Arts, for further information please visit www.nuamuseum.org.
Related posts: