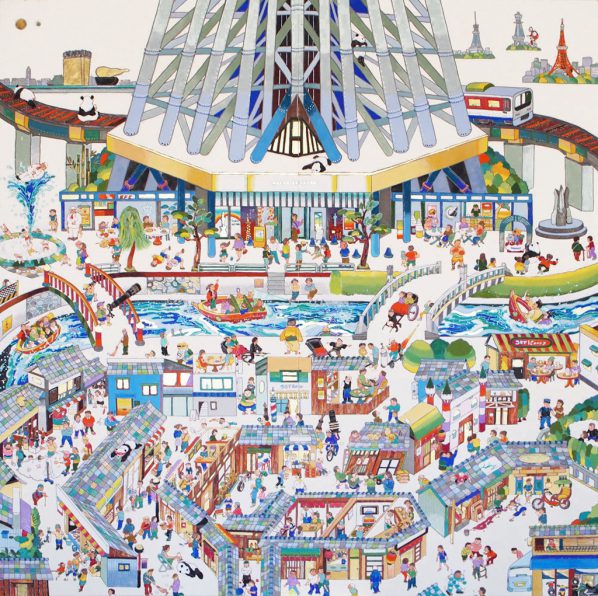 Art Projects Gallery is proud to present "Visual Diaries of the Floating World II" by Japanese artist Ryota Unno. As the name suggests, this is the artist's second solo exhibition in Hong Kong, following his successful sold-out show, "Visual Diaries of the Floating World", in 2014.
In "Visual Diaries of the Floating World II", Ryota continues to use the traditional Japanese painting technique of "Kaiga" (also known as "gado"), to present comical depictions of contemporary life, each scene with highly imaginative narratives imbued with the artist's trademark humor.
Influenced by genre paintings of the Edo period in Japan three centuries ago, Ryota engages the audience with highly intricate details and delightful visual storytelling, to explore and highlight social culture, local traditions and human behaviors from his unique and quirky point of view. His works encourages the rediscovery of fun and an appreciation of life's simple pleasures, which are increasingly being taken for granted or forgotten in our modern 21st century society. The light-hearted and daring renditions, revealing comical expressions and even perverse content, seemingly antithesis to the more commonly known image of Japanese people that is usually seen as serious, polite and diligent, unveil the other side of the highly complex society.
About the artist
Ryota Unno was born in 1977, Shizuoka, Japan. He graduated with a Bachelor of Fine Arts in Japanese Painting from the Tokyo National University of Fine Arts and Music in year 2004, specializing in painting with traditional Japanese medium such as iwaenogu (natural mineral pigments) and gold foil on Japanese paper. Ryota has participated in solo and group exhibitions in Hong Kong, Japan, USA, Brazil, Italy, Taiwan and Singapore.
About the exhibition
Dates: 13 Dec 2016 – 8 Jan 2017
Venue: Art Project Gallery, Hong Kong
Courtesy of the artist and Art Project Gallery, for further informatio please visit www.artprojectsasia.com.
Related posts: