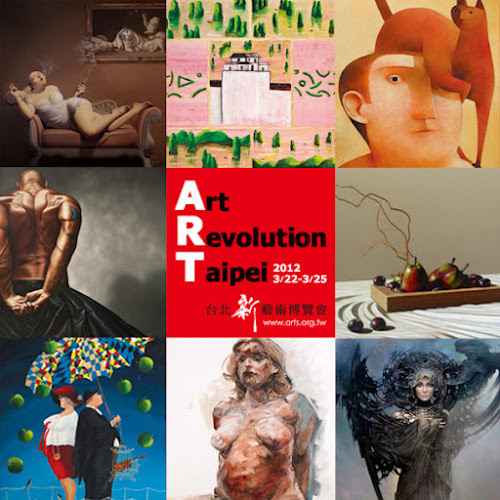 Establishing itself as an international platform for artists to demonstrate their creativity and talents, the Art Revolution Taipei (A.R.T.) is launching its second edition. With applications for the sections of Taiwan Contemporary Art and International Contemporary Art overwhelmingly full, A.R.T. 2012 will present from March 22nd to 25th in total 1500 pieces of artworks by 227 artists from 37 countries – many of them are highly respected world-renowned artists, such as Philippe Pasqua. Pasqua was recently honored as the French Best Artist 2011 – this will be his premiere exhibition in Taiwan.
Upholding the spirit of constant innovation, A.R.T. curates the art fair based on the dual axis of "placing the artists at the center of the exhibition stage" and "designing the entire art fair as a colossal artwork." It launched its first edition in May of 2011, which was hailed as a great success. The whole event took the art circles by surprise; it achieved an astonishing record that 89.66% of the exhibiting artists (i.e., 182 artists) had transactions. In merely one month after the event, there was no more vacancy for the section of Taiwan Contemporary Art. The numbers of exhibiting countries and artworks exceed last year – and two thirds of them are new to the A.R.T.
The Art Director of A.R.T., Lee Sun-Don, who made the selection of every exhibiting artwork, remarked that whether an artwork to be selected into the A.R.T. depends solely on its originality and collectible potentials, instead of its popularity or market values. With "My Art, My Show" as the theme of the art fair, which varies annually, every booth will be designed as a solo exhibition of the concerned artist's latest creations. This allows the viewers to capture and connect to each artist's personal characteristics. On the other hand, each exhibiting artist is expected to demonstrate how s/he has elevated herself/himself creatively in front of the viewers. To explore the potentials of the young talents, Lee Sun-Don, an artist himself, also takes a bold step in recruiting some promising new stars who and whose creations have attracted not much attention. What A.R.T. has presented before us is therefore not only the art of our "current" time but also the art of the "future."
Of all exhibiting artists, some are truly prestigious masters of the world. Philippe Pasqua, for example, was recently named France's best artist 2011 by French magazine Art actuel. The section of "The Greats vis-à-vis the Greats," specially designed by New York Contemporary Art Fund, is also characterized with world-renowned artists, such as Richard Young of the Royal College of Art (RCA) in England and Cassandra Gillens from the United States. Richard Young uses painting knife to exquisitely carve the rhythmic strength and elegant silhouette of ballad dancers with photo-like realistic appeal. Cassandra Gillens, born and educated in Boston of Massachusetts, is closely connected to the culture in the historic land of South Carolina. She depicts some of her fondest memories as a child, and also of good old southern living and images of various life styles found on the Sea Islands, with vivid saturated color and simplification of forms, keeping her true to style of fauvism. These great artists mutually illuminate one another's marvel and mastery.
The exhibiting artists of A.R.T. come from not only those popular countries in Europe, America and Asia, but also those we are less familiar with, such as Australia, New Zealand, Cuba, Peru, Bulgaria, Kosovo, Mozambique and Iran. This is truly an international-scale and world-class art fair. The art lovers can take advantage of this opportunity to sample the culturally diverse creativities and expand their horizons of contemporary art. Art Revolution Taipei 2012 features leading and emerging galleries and artists around the globe. Hundreds of artists, ranging from the established to the latest generation of emerging figures will be represented in the show's multiple sections.
Courtesy of Art Revolution Taipei 2012, for further information please visit www.arts.org.tw.
Related posts: