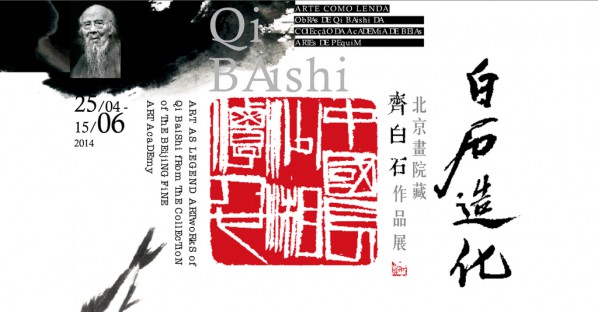 This year marks the 150th anniversary of the birth of Qi Baishi, the most revered Chinese painting master of the twentieth century. The Macao Museum of Art(MAM), under the management of the Civic and Municipal Affairs Bureau of Macao, joins hands with the Beijing Fine Arts Academy, which has collected a large number of Qi's masterpieces, to host the exhibition Art As Legend – Artworks of Qi Baishi from the Collection of the Beijing Fine Art Academy to display the precious collection of Qi Baishi from the Beijing Fine Art Academy. Qi Baishi's works from different periods – 300 works including 150 Chinese painting and Calligraphy, 150 Seals are displayed in order to show viewers the artistic achievements of this grand master.
Qi Baishi (1864-1957) – formerly known as Chun Zhi and later called Huang – used the pseudonym Bin Sheng alias Baishi and Baishi Laoren (Senior Baishi), and was also known as Qi Da, Mu Jushi. Qi Baishi was born to a poor family from Xiangtan in Hunan; he only began to paint at the age of 27 (1888) as the apprentice of Hu Qinyuan. He moved to Beijing in 1917 and met Chen Shizeng, and once served in a teaching position at the National Beiping Art School. After 1949, he served as Honorary Professor of the Central Academy of Fine Arts, Chairman of the China Artists Association, researcher for the Central Research Institute of Culture and History, President of the Chinese Painting Research Institute in Beijing as well as honorary principal of the Beijing Institute of Chinese Paintings.
Qi Baishi's artistic success is attributed to several factors, including the introduction of new themes in Chinese painting. He painted subjects never before featured by literati painters, allowing ordinary people to better understand the relationship between art and life, while also bringing a breath of fresh air to the Chinese art scene of his time. Qi's art features skillful renditions of typical everyday items. He excels at transforming the ordinary into beauty, allowing the public to discover the artistic element in everyday life.
Qi advocated that art should demonstrate "the subtleness between similarity and difference", learned from Xu Wei, Zhu Da, Shi Tao, Wu Changshuo and so on, forming his unique impressionistic and freehand painting style, and created a new style of using red ink to paint flowers and the simple use of black ink to paint leaves. He excelled in painting fruits and vegetables, flowers, birds, insects and fish, as well as characters and landscapes, and was a well-known painter in China with influence equal to Wu Changshuo. They were known as 'Wu from the South & Qi from the North'.
The simplicity of Qi's folk art painting style integrates the literati painting styles of the old days, bringing the development of Chinese modern bird and flower painting to a climax. His influence was far reaching, even to Western countries, and he was highly praised by Pablo Picasso, the Western modernist giant. Qi was a hard-working and productive person with noble behaviour; he never stopped painting and writing, earning his living from his works. He left behind over 30,000 paintings in addition to some 3,000 poems, self-narrations, various manuscripts and volumes of handwriting.
To emphasize Qi Baishi's artistic versatility in the fields of painting, calligraphy and seal carving, Art As Legend is presented under five themes: 1. Practice; 2. Chanting; 3. Inscription; 4. Seal features; 5. Stone seals. In addition, the exhibition displays paintings and calligraphy works by friends of Qi in the section 'Chanting'. This section explores his interactions with other artists, allowing exhibition goers to better understand the artist from multiple perspectives.
About the exhibition
Inauguration: 24/04/2014 18:30
Duration: 25/4/2014 — 15/6/2014
Venue: 4th Floor, Macao Museum of Art
Courtesy of the artist and Maco Museum of Art, for further information please visit www.mam.gov.mo.
Related posts: