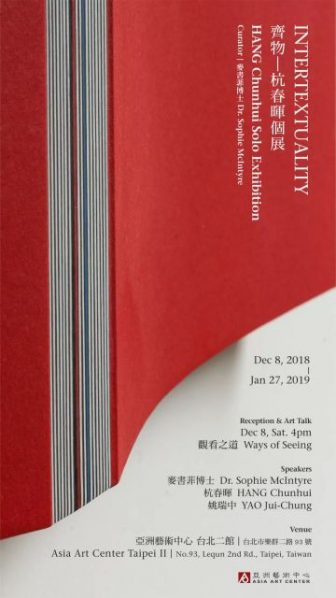 Asia Art Center is pleased to announce the opening of "Intertextuality: HANG Chunhui Solo Exhibition" at Asia Art Center Taipei II on December 8th, 2018. Curated by Dr. Sophie McIntyre, the exhibition features twenty recent works from Hang Chunhui's newest series. The opening reception and art talk, "Ways of Seeing" between the curator Dr. Sophie McIntyre, artists Hang Chunhui and Yao Jui-Chung, will be held at 4 p.m. on December 8th, 2018; the exhibition will run till January 27th, 2019.
The curator Dr. Sophie McIntyre received her Ph.D. from Australia National University in 2013. She teaches in the Faculty of Creative Industries at the Queensland University of Technology in Brisbane, and she is also an independent art curator. The artist, Hang Chunhui, received his Ph.D. from Chinese National Academy of Arts in 2011, and he lives and works in Beijing. Though Hang and McIntyre have different cultural and educational backgrounds, the artist's creative pursuits and the curator's academic research coincide as they both question our preconceived definitions and perceptions of Chinese art, and the relationship between tradition and contemporaneity. This exhibition brings together these two voices and highlights artistic expressions of Chinese culture and philosophy in the context of contemporary art.
The exhibition title "Intertexuality" originates in Taoism, and specifically in the philosopher Chuang Tzu's text in the Inner Chapters, "The sorting which evens things out" (as translated by the Welsh Sinologist A.C. Graham). Widely regarded as the core principle underpinning Taoist philosophy, the chapter examines truth to be a construct of contradicting perspectives, as paraphrased from the writing, "everything may be either positive or negative, decided by the beholder." Intriguingly, this concept of relative truth has recurred in different artistic discussions, such as comparisons between: form and material, reality and illusion, East and West. Nevertheless, these contrasts can all be summarily understood as the relationship of duality. In Hang's new series: "Pearl", "Message Obscured by Form", "Boundless", and "Transparent Color", he creates a paradoxical way of seeing that blurs the boundary between materials and form to explore the interrelation between matter and space.
Trained in Western abstract painting and Eastern ink-and-wash technique, Hang's early ink-and-brush compositions from 2005 were heavily influenced by Baroque-style art as shown in his uses of: religious symbolism, depiction of light, and most importantly the practice of "trompe l'oeil", a technique he continues to practice. Since 2013, the artist has abandoned pure representation in his painting, and has re-directed his attention to exploring visual dualities between representation and abstraction. Works such as "Message Obscured by Form" question the credibility of our visual faculty, as the works may look like a hyper-realistic representation of books, but on closer inspection they reveal themselves to be simple geometric forms. Probing into the limitation of formality, the works of "Boundless" reject the painting frame as a visual illusion that restrains our imagination of art within its boundary. Hence, when the frame becomes the depicted subject in painting, the deconstructed boundary provokes an ambiguous relationship between subject and object. Then, by the deliberate exposure of actual readymade material in juxtaposition with its hyper-realistic painted representation, the works of "Transparent Color" create a visual contrast that echoes with the duality of reality and illusion.
Represented by Asia Art Center, works by artist Hang Chunhui have been showcased at numerous museums and art fairs. This exhibition marks Hang Chunhui's first solo exhibition in Taipei. Curated by Dr. Sophie McIntyre, the exhibition will appeal to a local as well as international audience.
About the exhibition
Curator: Dr. Sophie McIntyre
Dates: Dec. 8, 2018 ~ Jan. 27, 2019
Opening & Art Talk: Dec. 8, 2018 (Sat.) 4pm
Art Talk: Theme Ways of Seeing
Speakers: Dr. Sophie McIntyre, HANG Chunhui, YAO Jui-Chung
Venue: Asia Art Center Taipei II
Courtesy of the artist and Asia Art Center, for further information please visit www.asiaartcenter.org.
Related posts: