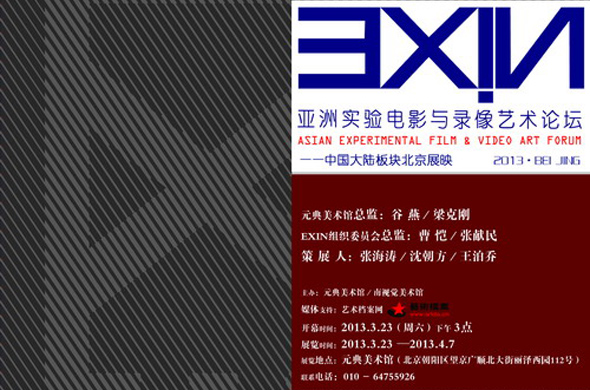 Experimental film, as an art form of film from the West, its status in Asian countries has been rarely known. When looking for a frame of reference for experimental films in Asia, people will unconsciously put their sights on the West, ignoring other far-eastern Asian countries' ecologies (with the double levels of history and reality). Then such a situation emerges: people focus on overlooking far from the other hemisphere, while their vision of the close range are blurred by a false focus.
In fact, when experimental films are imported to Asian countries, because of their different background in politics, economics, and cultures, they come across different circumstances, displaying different ecologies. If these situations are juxtaposed as a cultural landscape, cross reference and comparison, they are maybe able to produce a broader butterfly effect.
The situation changed in the fall of 2009, curators from main Asian countries in the field of experimental media, for the first time, gathered at Seoul Korea Forum (EXiS), which ushered in a new chapter of Asian experimental film. Then, 2010 EXiT Asian forum was held in Taipei in the fall of 2010, and EXiM Asian forum was held in Macau in 2011. Now, the 2012 Asian forum will be in Nanjing.
2012 Asian Experimental Film and Video Art Forum (EXIN), was divided into three parts: forum subject, film screenings, and publications of a catalog and anthology. Because the EXIN 2012 was not held for some reason, the screening plate of Mainland China is held at Yuan Art Museum, Beijing, on March 23, until May 7, 2013. It welcomes concerns from all walks of life.
About the exhibition
Curators: Zhang Haitao/Shen Chaofang/Wang Boqiao
Host: Yuan Art Museum/RCM Art Museum
Opening Time: 15:00 pm on March 23, 2013 (Saturday)
Duration: March 23 – May 7, 2013
Venue: Yuan Art Museum (112, Lize West Park, Wangjing Guangshun North Street, Chaoyang District, Beijing)
Translated by Chen Peihua/CAFA ART INFO
Related posts: