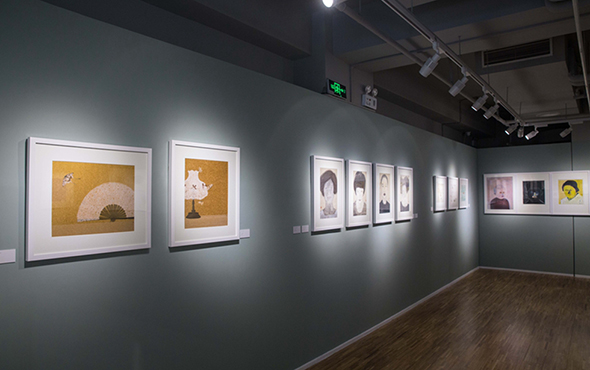 On October 2, "Atonality" a group exhibition featuring nine artists was unveiled at Gauguin Gallery, Wangjing SOHO. The exhibition was organized by Gauguin Gallery and it invites 9 artists including Li Fan, Li Yang, Liu Liping, Shao Yiyang, Liu Libin, Mi Jie, Gao Qian, Yuan Mingxin and Zhang Yanzi to present their works. Dong Huiping is the Director of the exhibition and Fu Yijing is the academic chair.
In view of synchronicity, the exhibition was entitled "Atonality", which breaks the traditional sequence of modern music styles, showcasing the "atonal" creative status of contemporary artists which appears to be complicated but actually is an orderly form. The exhibition presents an experimental vision of art in an open and free form, trying to show a dimension of outline of contemporary art developments.
All the nine artists invited to attend the exhibition are young or middle-aged teachers from the Central Academy of Fine Arts, the Chinese National Academy of Arts as well as other art schools and research institutes. They are endowed with abundant traditional connotations, a rich culture and international vision and they create work from free and boundless ideas, acting with courage to break away from tradition so as to challenge the boundaries between the traditional and the modern, the East and the West, with multiple integration and dimensions. Their works are diverse with creative backgrounds, there are some who are engaged in creations and research in oil painting, printmaking, mural painting, traditional Chinese painting and also there are some professors of art theory, thus they present comprehensive diverse creative experiences and technical experiments. Visitors can experience the experimental and complicated nature of their creations and thinking process as a sample of art analysis.
"I like the title 'Atonality' of this exhibition," said Zhang Yanzi, one of the nine artists participated in this exhibition, "The works displayed by these nine artists are diverse in appearance and have a variety of features. When they are placed together, they seem to be 'atonal', quite relaxed." The exhibition was unveiled in a disorder, atonal and cheerful rhythm.
It is reported that the exhibition will remain on view for a month. In a small and well-developed space, in this deliberately established context, we can see the tip of the iceberg, which develops quickly and is different from the traditional language of painting. The new art energy will be found in the conscious contrasts and collisions. This is the free atonality based on artistic creation and forms which is presented in a diverse polyphony.
Courtesy of the artists and Gauguin Gallery, translated and edited by Sue/CAFA ART INFO
Related posts: