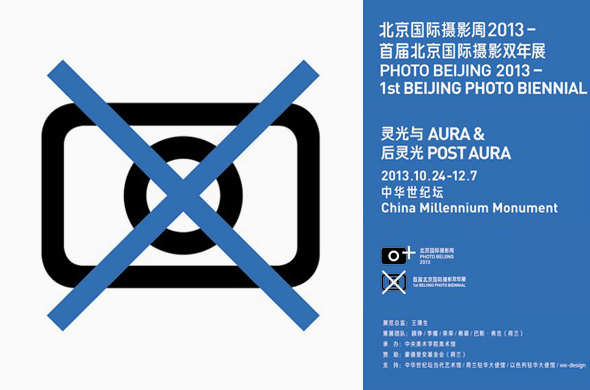 The First Beijing Photo Biennial, organized by the Ministry of Culture of P.R.C. and Beijing Municipal Government, initiated and curated by CAFA Art Museum, was formally launched in February 2013. As a main project of "The 2013 Beijing International Photography Week," the exhibition will be held from Oct. 24th to Dec. 7th, 2013 at China Millennium Monument.
This large-scale exhibition program presents how photography has become an effective vehicle in the exchange of contemporary photography in the international arena as an artistic, applicable and self-renewing medium. Furthermore, it has been adopted the building new order and structure in contemporary art and culture. It aims at exploring, discussing and encouraging the investigation of the photographic language and the conceptual advancements, while identifying and supporting young Chines photographers with great talent and potentials with an outlook and methods of the future, in order to promote and raise influence and recognition of contemporary Chinese photography on the international arena. Its introduction of the leading classic western and contemporary resources on photography will facilitate academic exchange between China and the West to further the development of contemporary Chinese photography.
Thematic Statement
"Aura," as a key word in Walter Benjamin's (1892-1940) Artistic Aesthetics System, is always considered as the indicator differentiating classical art from modern art. Modern art, often used to outline and present mechanical reproduction, has already lost the "aura" imbued within its intrinsic vitality, spirituality and halo empowered by classical art, due to the non-manual, non-aesthetic and non-worshipped works, in other words, the "aura" has been dimmed and faded. The loss of the "aura" according to Benjamin should be attributed to the occurrence of photography and film, as well as being consequential to media reforms featuring new technologies and modes of communication such as, printing, radio and television. However, when discussing about one of the "culprits" leading to the death of the "aura" according to Benjamin, in an era of digital information and technology, we found that the so-called "aura" of art might have been transformed is yet still "shining", or it had been generalized and empowered with more open forms and meaning. Particularly, in a "dark" digital era, one's re-acquaintance with the "aura" and the command and examination of its definition and value is not only a desire, but also a theoretic exploration through real actions.
Whether it fades, dims, or revisits and reconstructs, in the course of "un-charm, re-charm and un-charm again", in the "post aura" era before everyone's eyes has ended quietly. As digital technology revolutionizes, its mad, rapid virtual, fascinating and transcendental approaches changes the medium of expression, creative concept, presentation and means of communication in art, moreover, it gradually impacts our perspective and attitudes on contemplating and viewing art. The "Post-Aura" artistic era, is a process of shifting from the artificial and social "aura" that mimics and reconstructs, to disperse and generate a new set of artistic values and standards.
For photography, we are in the best and the worst times. To have established "aura and post-aura" as the theme of the Biennial, on one hand, it aims to create a mutual reference and frameworks on the equivocal genres of photography, and presents its related issues; on the other hand, it aims to explore how photography generates and presents new understanding and experience between the local and the international, past and current contexts, media, technology and social discourse, moreover, how may one command, grasp and define the characteristics and meanings of "aura" to art at present under the ubiquity of the "post-aura" digital era!
Exhibition Framework
The First Beijing Photo Biennial (2013): Aura and Post Aura consists of 4 sections. They are, "Thematic Exhibition," "International Exhibition," "Nomination Exhibition" and "Collection Exhibition:"
I. Thematic Exhibition: New Photos since 2009
It is always in the times of drastic changes, the potential of great momentum in going forward is great. This momentum predicts future possibilities and indicates the opportunities of reform.
As we all know, the year of 2009 was a turning point for China and the rest of the world. On one hand, it was considered as a key turning point by which world order and structure were reestablished due to the eruption of the financial crisis; on the other hand, having successfully hosted the Beijing Olympic Games, while maintaining a steady pace of development, despite of the global financial crisis, China's overall strength and its global position were being recognized by the world.
Since the year 2009, contemporary Chinese photography has revealed diversified and complex phenomena. Its diversity and abundance has surpassed any time since 1949, while it also faces a series of new issues. To further elaborate on the new trend and issues occurred in the last four years of photographic creations in China, we have selected a series of representative artists and their signature works, and divided the exhibition through six perspectives to discuss the new trends and the diversity presented in Chinese photography.
Unit I: Cross Border
Unit II: Landscape Review
Unit III: Daily Depth
Unit IV: Body Identity
Unit V: Reflection
Unit VI: Re/In-News
II. International Exhibition: Points On the Map
"Look out, step into the world" has been a characteristic of western societies. For centuries, this concept and practice of the West have been changing the world's geopolitical layout, cultural and economic states. Not only photographers and filmmakers practice "looking out and stepping into the world," but also record, discover, disclose and seek out for it. The "International Exhibition: Points On the Map" has selected artworks by western documentary photographers and filmmakers dealing with regional conflicts, especially in the regions of Afghanistan, Israel/Palestine and the Caucasus. These works propel the viewers to contemplate on issues concerning politics, war, culture and the economy. Meanwhile, as China gradually "looks out and steps into the world", its new modes of politics political, diplomacy and economy may become the focus of Chinese photographers, which may also indicates that new geopolitical structure is being established in the world.
The artwork selection for "Points On the Map" have been chosen from non-mainstream platforms and documentary practices, including independent, cultural environments, rather than from the desensitized mass media. It includes unique exhibition space and cultural context, still and moving images, and the text and sound setup, as well as multi-spatial platforms established in such independent space, for example, the internet, iPad or installations which allow synchronized multimedia platforms. The internet is not only where information is publish, but for many it is also a resource. Not only may one search for any background information but also allows one to access footage uploaded by amateurs, archives, news sources and etc. The authenticity of the "Post Aura" presented by images of the vernacular and non-professional is what needs to be addressed here.
The unit of "Points On the Map" calls on the most active components in western photography in recent years, and integrates the newly emerged phenomena and trends into an independent thematic exhibition in order to present and referential and open-minded and global perspective, while establishes a symbolic tension within a cultural space.
III. Nomination Exhibition: Artists Nominated by Young Curators
The section is carried out through nominations of young photographers by young curators (each curator shall nominate two or three young photographers and presents his/her exhibition independently). With their focused thematic planning, the young curators will reveal their contemplations on the current state of photography in China. The exhibition aims at providing an academic and exhibition platform for young curators and photographers, and to support and encourage their curatorial and creative practice, while finding a multi-dimensional perspective in promoting and presenting the new trends in Chinese photography.
IV. Collection Exhibition: Local and West
1. From Callahan to Jeff Koons: Collections from Charles Jin
Between 2011 to 2012, CAFA Art Museum has successfully held the "100 VINTAGE PRINTS: Touring exhibition of Charles Jin's collection on 20th century artworks by western photographers in China ". As one of the most influential exhibition of Western photography exhibited in China since 2009, has not only facilitated wider acceptance on the concept of "vintage" in China, but also has provided an opportunity to understand photography in China. The Biennial is pleased to collaborate with Charles Jin, a Chinese American collector, in selecting a small portion of the masterpieces from his recent collections, and curate the exhibition accordingly.
2. From "New Photography" to Rookie Award: Three Shadows' Collection
In the 1990s, unlike the generation of photographers who sought out salon aesthetics and critical social perspectives in their pursuit of the new photographic vernacular of the post Cultural Revolution era, those of the "new photography" trend tend to invest their focus on themselves. Whether done consciously or unconsciously, they began with the self-reflective characteristic of photography and adopt the macroscopic perspective as a vehicle of image creation. Among the images created through the "mirror", they have presented the confusion, anxiety and depression of a generation. Thereafter, more photographers began to explore the possibilities beyond the political and social criticism. The "Three Shadows Photography Award" initiated in 2008, has reviewed the possibility of extending such explorations while discovering new photographers. The younger generation's exploration is often more diversified that reveals more depth and keener perceptions and expressions. This exhibition is to demonstrate such explorations in Chinese photography since the 1990s through the collection of "Three Shadows".
Academic Program
The academic program includes three components: forum, seminar and lecture. Learning from our past experience, we attempt to strengthen our theoretic research and discussions. This seminar will focus on the relationships between photography and the art museum policies, Benjamin's aesthetics and photography, aesthetics in western modernist photography and the aesthetic standard, as well as how photography has become a medium of self-expression adopted in social media and etc.
1. Forum
1.1 International Forum: Photography and the Art System
We invite directors and curators of photography departments of art museums in China and internationally to present their topical papers on this subject and discuss issues related to the exhibition, research, publication and conservation and collection on photograph in a round-table setup.
1.2 Youth Forum – Aura and Post Aura: New Photography and New Issues
Young critics on photography have been a very ambiguous concept in the field of Chinese photography. In the last year or two, a great number of young enthusiasts on theoretic criticism and curatorial practice have emerged, and their various academic backgrounds have offered various perspectives on contemporary photography. The Biennial sets up a "Nomination Exhibition" section for these young photography critics and curators. Thus, the discussions for the "Youth Forum" will focus on their exhibition and their judgment of contemporary photography accordingly.
2. Seminar
Photography, Mass Journalism and the Era of Social Media
With the emergence of public and social media such as microblogs and WeChat, the way in which people communicate has changed drastically. Meanwhile, it has also changed the modes of distribution, the channels and functionalities of photography. Today, Web2.0 has even brought us into an era of the so-called "self-media". For which, we invite a number of experts and scholars in the fields of journalism and visual culture, to discuss in depth on this newly generated cultural phenomenon and photographic discourse.
3. Lecture
Trio Talk
The "Trio Talk" consists of several three-persons talks, to discuss the various new phenomena, trends and issues in contemporary photography in whether fierce, easy or humorous fashions. In a certain extend, it is a series of "talk shows" on photography. We will invite artists, curators and guests of the Biennial to present the audience with exciting lectures and discussions.
Artists and Exhibits
1. The First Beijing Photos Biennial is an invitational exhibition. The list of participating artists is studied, selected and determined by the curatorial team of the biennale according to each exhibition unit and theme.
2. The artists invited come from both Mainland China and internationally.
3. The works on exhibit are predominantly in the medium of photography, but also includes works of video, multi-media and installations.
Publication
Other than the brochure and leaflet for the exhibitions, two publications will be produced for the biennale. One, the Aura and Post Aura: Album of the First Beijing Photos Biennial (Abbreviated as, Exhibition Album) and the Aura and Post Aura: Collected Essays for the First Beijing Photos Biennial (abbreviated as, Collected Essays)
Exhibition Album includes the curators' statements, artists' works, summaries and memorandums of a series of academic programs of the exhibition.
Collected Essays includes essays commissioned and presented for the seminars.
About the biennial
Time: Oct 24th (Thursday)–Dec 7th (Saturday), 2013
Venue: China Millennium Monument
Art Director: Wang Huangsheng
Curatorial Team: Gu Zheng / Li Mei / Rong Rong / Tsai Meng / Bas Vroege (Netherlands)
Organizer: Art Museum of China Central Academy of Fine Arts
Sponsor: mondriaan fund (Netherlands)
Support: China Millennium Monument · Contemporary Art Museum / Netherlands Embassy in Beijing China / Embassy of Israel in China / wx-design
Contact Information
Cai Meng (13683672233 / +86-10-64771618 ,General Coordinator)
Li Yingtian (15117988146 ,Theme Exhibition Coordinator )
Su Dianna (13260178256, International Exhibition Coordinator)
MaoWeidong (13910311280, Nomination Exhibition Coordinator)
Song Liang (15101160820, Development and Art Education Coordinator)
E-mail: photobiennial@163.com
Add: CAFA Art Museum, No. 8, Huajiadi S Street, Chaoyang District, Beijing, China 100102
Fax: +86-1064771699
Web-site: http://www.cafamuseum.org
Micro-blog: http://weibo.com/cafamuseum
Related posts: