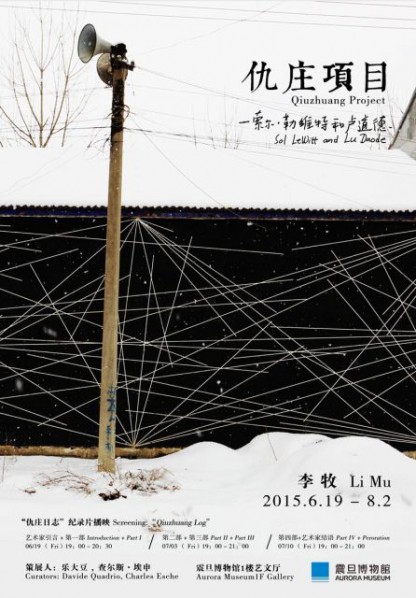 "Qiuzhuang Project" (2012.01-2013.07), is a long-term intervention piece that Li Mu produced in his hometown. The main focus was about reproducing and exhibiting important works from the Van Abbemuseum in the Netherlands. 10 artworks by 8 artists were personally selected by Li Mu with the following criteria: first, the work could have a connection to the village, and second, the work could build a new connection with the village. In the process of creating this work, he did not mean to instill Western culture on the local villagers, but rather create a new environment in which they could experience art. Li Mu has managed to use his art, knowledge, and experience to establish relationships within his village to foster development and influence.
The topic chosen for the current exhibition is an "encounter" between Lu Daode and Sol LeWitt. Li Mu invited the village's old painter, Lu Daode, to reproduce two wall paintings by Sol LeWitt (Wall Drawing No. 256, Wall Drawing No. 480). Audience can see the records of the production process, and interview videos of Lu Daode's, as well as daily reports of the program during "Qiuzhuang Project."
About the exhibition
Dates: Jun 19, 2015 – Aug 2, 2015
Opening: Jun 19, 2015, 19:00, Friday
Venue: Aurora Museum
Curators: Charles Esche, Quadrio Davide
Courtesy of the artist and Aurora Museum, for further information please visit www.auroramuseum.cn.
Related posts: