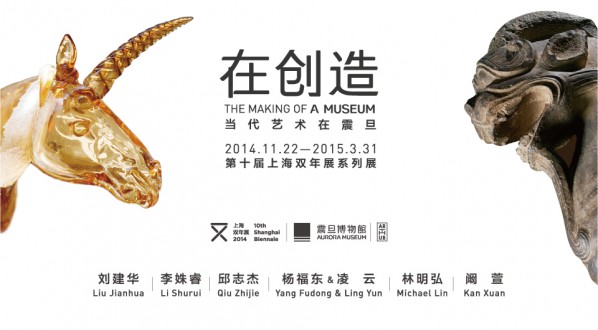 On the occasion of the first anniversary of the Aurora Museum, the exhibition "The Making of A Museum" presents seven internationally renowned contemporary artists who engage and interfere with the Museum's space and collection.
Their works displayed together with Aurora Museum's precious collection of ancient Chinese artifacts result into an exhibition that modulates, transforms and connects the collection together with the architectural space, opening the Museum to unexpected visual interferences, meanings and poetic parallels which reveal through the contemporary artists' eyes the exceptional richness of China past. This exhibition is in partnership with the 10th Shanghai Biennale.
About the exhibition
Exhibition Title: The Making of A Museum
Venue: Aurora Museum
Address: No. 99 Fucheng Road, Lujiazui, Pudong New District, Shanghai
Exhibition Period: 22nd November 2014 – 31st March 2015
Curator: Davide Quadrio
Artists: Liu Jianhua, Li Shurui, Qiu Zhijie, Yang Fudong & Ling Yun, Michael Lin, Kan Xuan
Host: Aurora Museum, Arthub Asia
Co-host: Power Station of Art
Opening Hours: 10:00-17:00 from Tuesday to Sunday, extended opening hours 10:00-21:00 on Friday. Closed on Monday.
Admission: 60 RMB. For students/disabled people/military staff/over 60 years old elderly people, the discounted admission is 30RMB, valid certificate required. Free for elderly people over 70 years old, valid certificate required.
Tel: 021-58408899-607
Website: www.auroramuseum.cn/en
Courtesy of the artists and Aurora Museum, for further information please visit www.auroramuseum.cn.
Related posts: