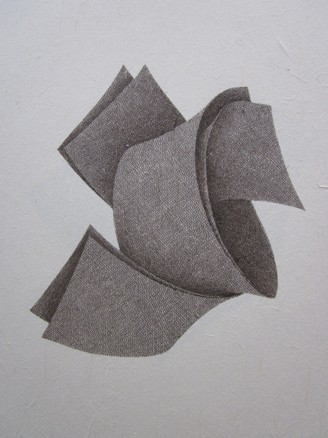 Galerie Koo is honoured to present the second solo exhibition "Drawn with Plume" (named by Emilie Kiefhaber) in Hong Kong of Austrian Chinese artist CHEN Xi's new ink paintings. Renowned for his ability to draw elegant abstract form, he has dedicated the last ten years of his life to their creation. Chen's almost black & white's abstract paintings, are imbued with European art history on the outside and infused with Chinese philosophic spirit inside.
In this exhibition, Chen creates a silent world to allow the sound of black and white to resonate. Precision, patience and a keen eye are essential for the success of the drawing. The beauty of a perfect shape allows the viewer's gaze to rest. Looking at the drawings closely, you'll find every single line is painted free-hand and the abstraction is made in the tradition of European art history. The contouring is temporally prior to the internal modeling of the three-dimensional shapes. The curved or folded positions in the interior of the shape only occur later during the drawing process. The shapes are universal, belonging to everybody and nobody – Chen's pen and ink drawings are subject to a certain rootlessness.
His other style on display, abstract compositions created with a paint brush, offer recognizable parallels to the representation of Chinese mountains. In fact, this is a very special collage technique developed by Chen.
About the exhibition
Dates: 11 Feb – 18 Mar 2015
Venue: Galerie Koo
Courtesy of the artist and Galerie Koo, for further information please visit http://galeriekoo.s464.sureserver.com.
Related posts: