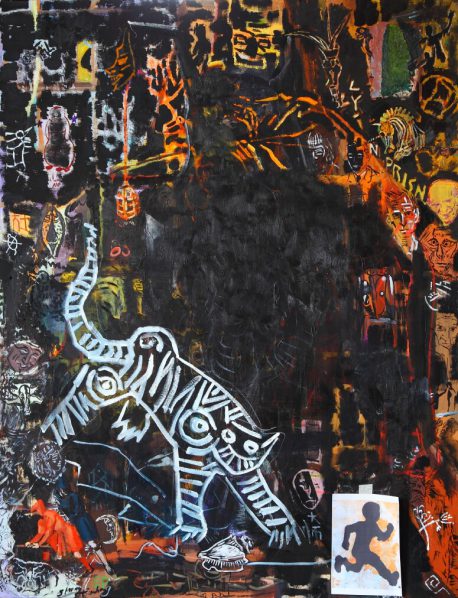 "I Love Modernism" is the 3rd solo exhibition of artist Sheng Tianhong in AYE Gallery. From the "Color Addicted", "Love in Digital Age" to today's "I Love Modernism". "Color Addicted" in 2010 showed great passion on the red wall, full of hope and confidence after coming back to motherland. Three years after, "Love in Digital Age," became calm. After frustration, it was in grief and depression. "I Love Modernism" probably is a personal cry and defend, even with nostalgic warmth, the admiration to beauty will suddenly be flooded by a tidal wave of this era, but these works are still blinked to you, with smile.
* Modernism: advocating modern and parted ways from tradition, especially in the art field. Modernism painting began in the late 19th century, including French artist édouard Manet, American artist Pollock and many other artists. (Excerpt from "Book of isms" of John Andrews)

Pleasures from Struggle and Wandering
By Zhao Yang
Shattered things shattering on collapse, broken matters spanning from greater broken pieces, the world is fulfilled with unspeakable secrets. Sheng Tianhong's artworks were born from struggles and frustration, as numerous remnants, waiting to be concatenated, like liquid in a flask, manic actions looking for fusion, like the old things with dust in the attic, hiding and rotating in the worldly cover, waiting to be recalled, looking for clues, poised energy generated from the loop of the mind. He is such a bystander, calm in silence as a nobody. Everyone has his own specialism. For painting, undoubtedly he is a skillful hunter. Like the boundaries wantonly broken in the artworks, the difficulties less needed to be understood, the ignorance and bias of narratives, the madness of hopeless misunderstanding, the missing statements, the gleaming lines, the picture seems deserted but full of mystery, wonderful sights just love to twist and turn the way of rendering, everything is covered by heavy fog. What we have is only waiting, waiting for a chance, waiting for the moment to master fight. High level artworks contain the joys of difficulties which couldn't be found by non-discerning people. Therefore, while watching, he lets the short stays in watching fragments and continuous hesitation collapse making it implicit, like an appearance. Concise descriptions drive to misleading; disingenuous humor which makes people suddenly enlightened; the blocked thoughts become the most direct understanding. Flame burns to its fullest, ash fascinated like nirvana, Tianhong is such an artist, submerged in pleasure from the struggle and he wanders. He uses humor to disturb my meditation, uses subtle humor easily while walking on the edge of banter, like "witz"and "witzig" in German, which can be translated as humor and humorous, as well as funny, happy, interesting, simply, and clumsy. It is an hidden pleasure; it is derived from Chen Laolian, Jin Nong, and Giotto; it is a pleasure of a civilian life, which is opposite to theroyal court, pleasure from pain and seeks relief. This side is that side. Last year, Tianhong and I visited his university in Dusseldorf where the Rhine passes through infront of the classroom's windows; a few jackdaws were circling above, sky was clear, a touch of warm colors fell from the clouds, it reminded people of the forgotten things, like his works as well as himself.
About the exhibition
Date: May 29, 2016 – Jul 20, 2016
Venue: AYE Gallery
Address: Room 601, Unit 3, Yonghe Garden, Yard 3, Dongbinhe Road, Andingmen, Dongcheng District, Beijing 100013
Tel: 86 10 8422 1726 / 8422 1030 Fax: 86 10 8422 1728
Courtesy of the artist and AYE Gallery, for further information please contact aye@ayegallery.com or visit www.ayegallery.com.
Related posts: