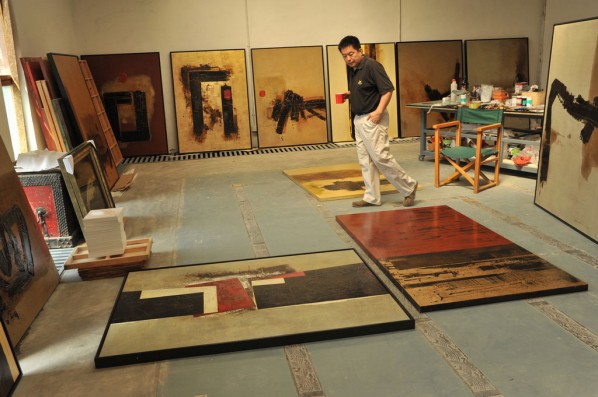 Sponsored by the Lacquer Art Committee of the Chinese Artists Association and Academy of Arts & Design, Tsinghua University, "Babel of the Heart: Cheng Xiangjun's Painting Exhibition" will be shown in Hall 9 of Zhejiang Art Museum from September 18th to September 27th in 2012.
Cheng Xiangjun graduated from the Central Academy of Arts & Design (abbreviated to CAAD, the forerunner of the Academy of Arts & Design, Tsinghua University) in 1986 and now teaches at the Lacquer Art Department at Tsinghua University. Since he started to learn and research lacquer art from 1985, his creations have been accompanied by the development of Chinese lacquer art. After over twenty years of creation and research, his works have gradually turned from an earlier realistic style to abstract artistic expressions.
In this exhibition, Cheng Xiangjun has selected more than 50 representative works of different periods by himself which can fully display his painstaking effort dedicated to lacquer art over the years and his achievements in this field. On the basis of maintaining the language features of lacquer painting, his creations have intentionally weakened the operation of the manufacture and focusing on expanding the broad space of lacquer art's expressive language, with the medium of lacquer painting, he has boldly explored the original blank field of lacquer painting art and expressing elements which have not been fully appreciated. Cheng Xiangjun is good at exploring the freehand brushwork and imagery from traditional art, his creation has strengthened the national style and modern form of the expressive language of lacquer painting art, that's why his works have appeared with his distinct personality.
It is reported that the exhibition will tour to Henan Art Museum in the near future after it finishes at Zhengjing Art Museum.
Images Courtesy of Cheng Xiangjun.
Related posts: