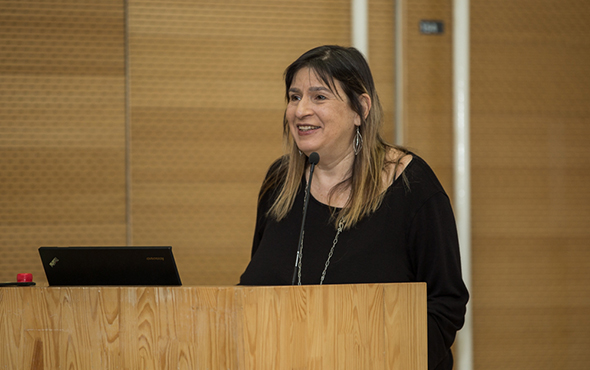 On March 22, 2018, Prof. Barbara Pollack from the School of Visual Arts in New York presented a lecture on "Post-Passport, Post-Human: New Identities in Contemporary Art" in the Auditorium of CAFA Art Museum. A leading expert on Chinese contemporary art, Barbara Pollack is an award winning journalist, art critic and curator. And Prof. Wang Chunchen hosted the lecture. What is "post-passport"? What is "post-human"? What is the relationship with art? How does she consider Chinese contemporary art and the social changes hiding behind it? Barbara mainly expounded on a group of young Chinese artists and reviewed Chinese contemporary art from the perspective of a Western scholar.
Barbara compared early contemporary Chinese art and the present contemporary Chinese art and discovered that young Chinese artists had different circumstances and opinions, so that she started a discussion on "post-passport, post-human". Barbara is engaged in the studies of contemporary Chinese art, and she was the first journalist to interview the famous artists Cai Guoqiang, Xu Bing and Zhan Wang, who lived in New York in the 1990s. When she first made contact with Chinese artists, Barbara actually defined their identities from the perspective of traditional cultural criticism, including gender identity, cultural identity, historical identity, and family identity. Through the interpretations of the works and interviews with the artists, she found that many Chinese artists created works themed on the collisions between Chinese and Western cultures in the 1990s, while it was hardly seen in the works by the younger generation of artists, which revealed that there was no difference between both cultures for the young artists in China. Different from the early contemporary Chinese artists who emphasized "Sinicization", the young artists tend to share their "internationalized" experiences. Barbara then elaborated on the three ways that young artists chose to face identity issues: "sampling", "technology" and "counterfeit". She found that an increasing number of artists were examining identity as something fluid, porous, unfixed and difficult to define.
First of all, Barbara analyzed and expounded on the first type of artists, including Chen Tianzhuo, Qiu Xiaofei and Guan Xiao. Chen Tianzhuo's works combine the borderline culture in London with Japanese cultural elements. The artist Guan Xiao combined abstraction with archeology. Their works were from diverse cultural backgrounds, but it seemed that they collected materials from the Internet rather than thinking deeply on other cultures. Qiu Xiaofei, who graduated from the Central Academy of Fine Arts, created the work of the "Chaotic System" which was inspired by a Norwegian musician that he loved. Speaking of the meaning of the work, Qiu said it was like a dream that was difficult to explain. They took fragments from different cultures and integrated them into their artistic creation, so that it revealed an international appeal. Apart from learning Chinese culture, the spectator should also broadly learn about other cultures in the world. Their creations are deeply influenced by the Internet, and it is similar to the everyday life of people who search for information online.
Barbara then discussed the works by Lu Yang and Miao Ying who explored the impact of technology on identity. Barbara said that the two artists reflected on the context of influence of new technology on the generation of individual personality, and the identity concept that is based on geographical boundaries and specific history in the past that has been challenged. Artist Lu Yang used a wide variety of media – installations, animation, digital photography and computer games to explore the nature of life at the intersection of neuroscience and spirituality (Tibetan Buddhism), reflecting on the delusional nature of the faith system and cosmology. Miao Ying, who graduated from the Central Academy of Fine Arts, used WeChat to discuss this form on the Internet in China. Barbara said that both artists were the most "Sinicized" artists of the younger generation. Their works are still based on Chinese culture as a single source, focusing on present Chinese realities rather than the traditional themes such as ink painting, dynasty or the Cultural Revolution.
The speaker then introduced Tao Hui and Yan Xing who discussed how identity was counterfeit which is a serious concern. A person's identity could be counterfeited though a person's cultural identity was more likely to be counterfeited. Tao Hui's work of creation was inspired by domestic soap operas, TV Entertainment and folk legends in the countryside. The artist Yan Xing's creations involved various fields such as performance, video, installation, and painting, and he was mainly influenced by Western modernism.
In the end, Barbara introduced a group of expat artists she met last year. In the 1990s, the student Barbara observed the expat artists from three perspectives including a stranger in a strange country, misreading and mistranslation, and the collision between the Eastern and Western cultures. When she made contact with Chinese artists at that time, what she felt was their helplessness. But the artists now were completely different. They used the approach of "post-passport" to consider art, and they usually had a global background. Their cultural identity was something fluid; WeChat was considered as their home; they were new citizens of the world. The artist Liu Shiyuan lived in Beijing, Copenhagen and New York and she believed that there was no unified cultural identity in the contemporary world, and fragments of different cultures constructed the cultural identity. Amy Lien from Taiwan and Enzo Camacho from Mexico mainly discussed the influence of globalization on art. Barbara stated that all people who came to China, learned many things about China and used Chinese materials to create, they could become Chinese artists in a globalized world.
Barbara believed that Chinese artists played an important role, because China was located at the center of globalization. Chinese artists could fully explore the cultural identity of "post-passport, post-human". Wang Chunchen said there were many good artists in China that were in need of being discovered and promoted and Barbara spoke highly of Chinese artists from the perspective of a western scholar. The audience responded enthusiastically, together with the speaker they conducted discussions on the conflict between the inheritance of tradition and globalization, "post-passport" ancient and modern Chinese and foreign contexts, and the hot topic of "pleasing the west". Perhaps, there would be more new observations and reflections on the positioning of contemporary Chinese art, exchanges and interactions with globalization, from a new perspective.
Text by Wu Lan, Photo by Hu Sichen/CAFA ART INFO
Translated by Chen Peihua and edited by Sue/CAFA ART INFO
Related posts: