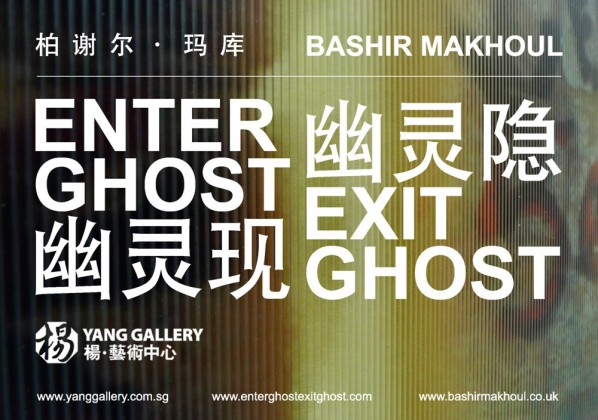 A featured installation by artist Bashir Makhoul entitled "Enter Ghost, Exist Ghost" is exhibiting at Yang Gallery in Beijing and it will last until April 15th, 2012. Makhoul has filled the gallery with a large-scale maze of walls extending over 100 metres. These walls are clad with shifting photographic images of other walls, windows, doors and passageways that capture Palestinian villages/ neighbourhoods interlaced with Israeli military training sites. Produced using lenticular micro-lens printing, this allows the images to be visible and interchangeable by movement. The slightest movement within the maze of this installation is enough to transform and relocate your surroundings completely; it pushes on the limits of the relationship between movement and narrative.
As with the play within the play of Hamlet, and the moral imperative for resolution and justice figured within the apparition whose stage directions offer the title for this ambitious installation, Enter Ghost, Exit Ghost offers us a compelling illusion within an illusion; an installation which asks its occupants how we are figured within the fundamental ambiguities of the spectral spaces of occupation and the political rhetoric of security and defence used to justify them, along with the control and suppression of civil life and human rights they bring about.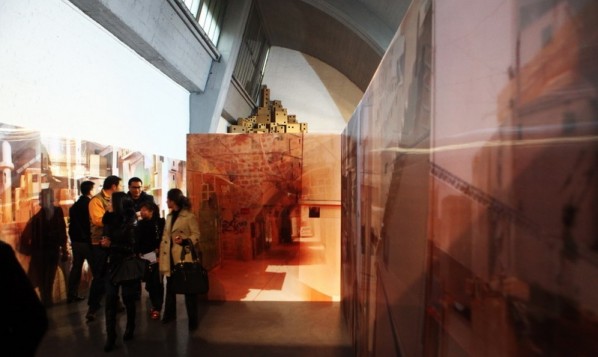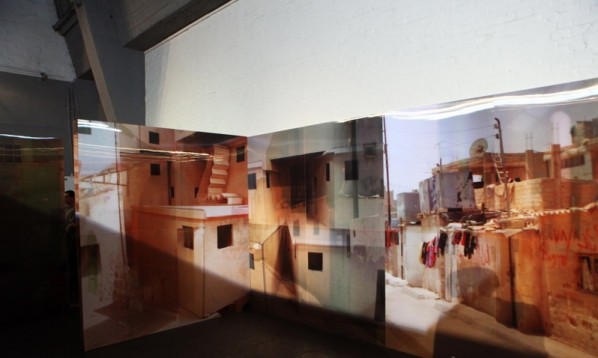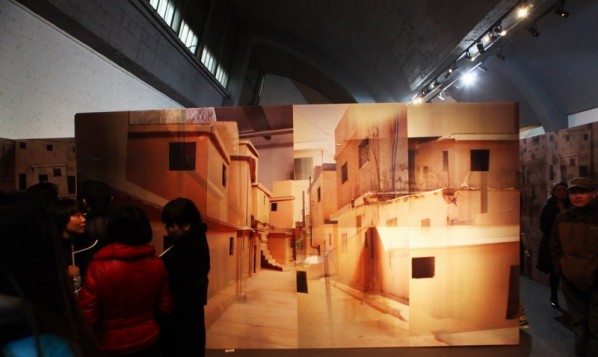 The ever-changing images of the maze in Enter Ghost, Exit Ghost further heighten the fragile line between the playful enjoyment and disturbing anxiety a maze's disorientation effect already induces. Emerging from the labyrinth, viewers find a sudden shift in scale and material when confronted by a cardboard city. Although calling to mind haphazardly stacked boxes in an abandoned warehouse, or models of dwellings, this is no 'model town'. Evoking the image of a town or refugee camp crowded on a hillside, this could be the unregulated architectural chaos of the Shu'fat refugee camp, parts of Ramallah, or the favelas of Brazil or Hong Kong.
The lenticular images consist of Makhoul's photographs of buildings and streets in East Jerusalem, Hebron and some of the larger Palestinian refugee camps such as Shu'fat, interspersed with images of the cardboard model based on Israeli military training sites. Incorporating questions of theatricality, virtuality, and representation, Enter Ghost, Exit Ghost invokes the childish pleasures of the maze and the model, combined with reference to dystopic urban warfare video games, to draw our attention to the perverse pleasures of the military imagination where training and playing are merged with actual killing.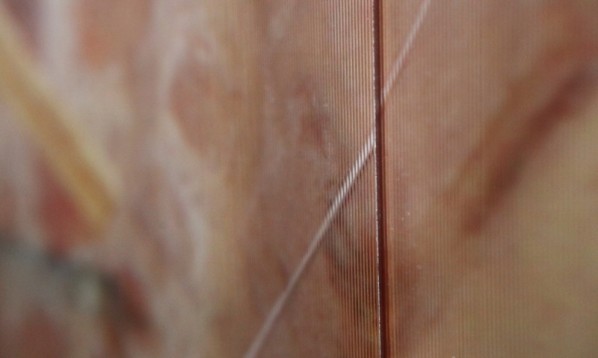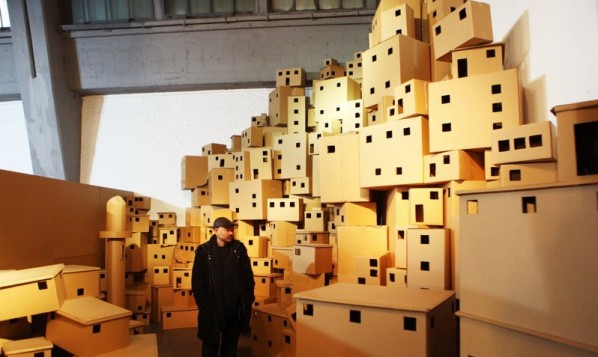 Makhoul creates from simple means a complex and immersive experience. The work confronts issues of social, political and geographical displacement in a non-confrontational but insistent way. Enter Ghost, Exit Ghost questions what type of spaces are these and what can they tell us about our relationship to power and technology in the spaces we are compelled to enter and exit in our neo-colonial age of global late-capitalism.
About the exhibition
Location: Yang Gallery Beijing
Date: 17 Mar – 15 Apr 2012
Curator: Gordon Hon
Exhibition Producer: Ray Yang
Critics: Jonathan Harris
Critics: Ryan Bishop
Project Manager Beijing: Summer Lin (Lin Xia)
Art Consultant: Richard Zhang
Courtesy of Bashir Makhoul and Yang Gallery, Beijing and Image Courtesy of www.artspy.cn.

Related posts: