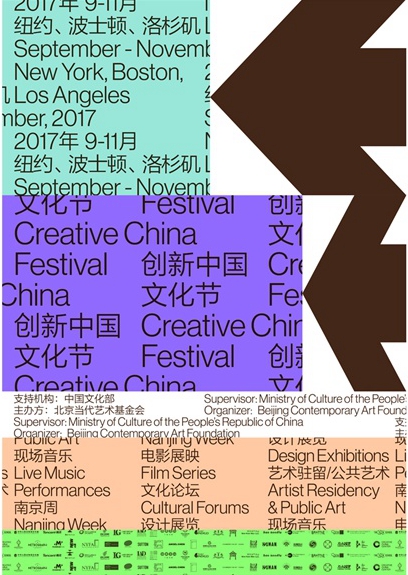 As part of the newly announced Creative China Festival, Beijing Contemporary Art Foundation (BCAF) is pleased to present the Social Innovation Forum on October 14, 2017, and the Cultural and Creative Dialogue Forum on October 17, 2017. The two forums feature prominent culture leaders from both countries, creating conversation and debate to further enhance understanding and idea exchange between them.
The first round of the bilateral "Social and People-to-People Dialogue" was held in Washington D.C on September 28, 2017. Co-chaired by Chinese Vice-Premier Liu Yandong and US Secretary of State Rex Tillerson, this event was one of four high-level discussions established during the Mar-a-Lago meeting between President Xi Jinping and US President Donald Trump in Florida in April. BCAF's Creative China Festival is the official project of the "First Round of the Bilateral Social and People-to-People Dialogue Action Plan", and the China-US Cultural Forums part of the Creative China Festival, will continue the conversations under the theme of "Mutual Understanding, Coexistence Sharing".
Contemporary China is characterized by its vibrant development and constant changes, equally in terms of economy and art, culture and social innovation. This China-US Cultural Forums Series aims to showcase the fluidity of China today, by focusing on engaging and insightful discussions covering three areas: cultural collaboration, social innovation, and cultural and creative dialogue, themes frequently found in conversations these days.
The Social Innovation Forum features the change-makers and innovators who are making their unique contributions to social development in China and the US. The speakers come from diverse backgrounds, such as leaders in startups and not-for-profit foundations; together they will share their visions and expertise on how to create better societies under different social and political structures, and on how to create cross-cultural dialogues in areas of business, policy-making, design and not-for-profit global operations.
The Cultural and Creative Dialogue gathers a group of important artists and creative professionals from China and the US, each of them will introduce themselves with a 10 minutes' speech about their practice. Through the presentation, the artists will share their insights of, and reflections on the contemporary art industry and society in general.
In collaboration with Center of China and Globalization Think Tank, JD Foundation, Tencent, Tenyun Think Tank, China Institute, Asia Contemporary Art Week, NYU The DO School, New York Foundation for the Arts and China House, the forums invite industry leaders, change-makers and innovators to participate and share their thoughts and practices, each who have made notable contributions in their individual fields.
China-US Cultural Forums | Social Innovation
Date: October 14, 2017
Time: 2 – 6pm
Venue: The Stage, The Times Center, New York
Address: 242 W 41st St, New York, NY 10036, USA
Supporter: Ministry of Culture of the People's Republic of China
Organizer: Beijing Contemporary Art Foundation
Co-organizer: JD Foundation
Partners: The DO School, Pace University
Speakers:
Felix W. Ortiz, Assistant Speaker of the New York State Assembly
Sun Zhixiang, Vice-president of JD.com
Hank Cauley, Senior Vice President of Conservation International
Ma Libo, Secretary General of JD Foundation
Rebecca Shaw, Chief Scientist and Senior Vice President, WWF
Toby Usnik, Founder of Philanthropic Impact Partners (π)
Yuan Yue, Chairman of Dataway Horizon, Director of Horizon Center of Youth Entrepreneurship for Society
Ma Ke, Designer, Founder of Wuyong
Christopher van Bergen, Chief Operating Officer of Nest
Irving Chan Gomez, Global Partnerships Associate and Localization Manager of B-lab
Jia Rong, Executive Director of the Dashilar Project
Zhang Biwei, President of Art Dream WWF, Unilever, & Etc.
He Lijun, Ph.D., Assistant Professor on Nonprofit Management at Pace University (Moderator)
China-US Cultural Forums | Cultural and Creative Dialogue
Date: October 17, 2017
Time: 1 – 4pm
Venue: Lipton Hall, NYU Law School, New York
Address: 33 Washington Square W, New York
Supporter: Ministry of Culture of the People's Republic of China
Organizer: Beijing Contemporary Art Foundation
Co-organizers: Asia Contemporary Art Week, New York Foundation for the Arts, NYU China House
Speakers:
Michael L. Royce, Executive Director of the New York Foundation for the Arts
Christopher Ho, Artist (Moderator)
Song Dong, Artist
Guo Hongwei, Artist
Yang Xin, Artist
Li Jin, Artist
Courtesy of the organizer.
Related posts: