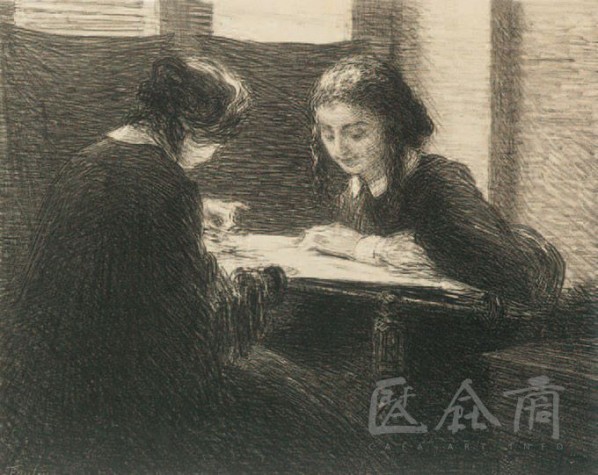 Jointly organized by Italian Cultural Center for the Arts, China International Exhibition Co., Ltd., Beijing Chinese Association for Culture Development Co., Ltd., Beijing Zhongzhan Danqing Exhibition Co., Ltd. and four different exhibition sites, "When Color Disappearing: Touring Exhibition of Impressionist Prints in China" opened at Beijing Art Museum in Temple of Longevity, on January 9, 2013.
The exhibition features more than 100 outstanding prints ranging from the 1860s to the mid-1960s, from the prosperous Impressionist period to the infancy period of Western modern art. The exhibition includes all the Impressionist Masters who we are familiar with: Corot, Delacroix, Miller, Pissarro, Manet, Degas, Cezanne, Sisley, Redon, Renoir, Gauguin, Van Gogh, Signac, Lautrec, Utrillo … in addition, we can also see Impressionist prints of the most influential artists in art history: Miller's "Knock Off", Manet's "Welfare-Bergeron Seoul Bar", "Horse Race", and "Portrait of Baudelaire", Degas's "Ballerina Wearing Shoes", Bracquemond's "Wolfs in Snow", Renoir's "The Hat Pinned Up by Pin", Gauguin's "Noah, Noah", Van Gogh's "Dr. Paul Gachet", Lautrec's "Equestrian" … the Chinese audiences do not only enjoy a visual feast in learning from the representative works of Impressionists, an extremely important genre in Western art history from this exhibition, but also the deeper cultural significance.
Prints throughout the 20th century are more dynamic than any previous era, for its flexibility, and ease of propagation, closely connected to the social life of the time, as well as closely related to the vigorous promotion to the new artistic concepts of the times. Because of the Passion for printmaking, the Impressionist painters not only found a more effective way for the dissemination and preservation of their works, but also retained valuable information for today's audiences and researchers. There are more than 50 painters' prints that are consistently displayed showing the context of the development of Western modern art ranging from the late 19th century to the 20th century, as it is rare for Chinese audiences to see the original, as they learn mainly about Western art through printed matter, it is a good chance for people living in a different cultural context from the West to see these works of art, through these specific and real works, to have a taste of Western civilization, putting the dialogues between the cultures and arts of the Oriental and the Western society on a more solid foundation, deepening Chinese people's understanding of the concept of multiculturalism within the background of globalization.
The first exhibition is in Beijing, which lasts until February 26, 2013, and after that it travels respectively to be on display at the Dalian Art Exhibition Hall, the Shanxi History Museum, the Art Museum of Shandong College of Art and Design.
Translation: Chen Peihua/CAFA ART INFO
Related posts: