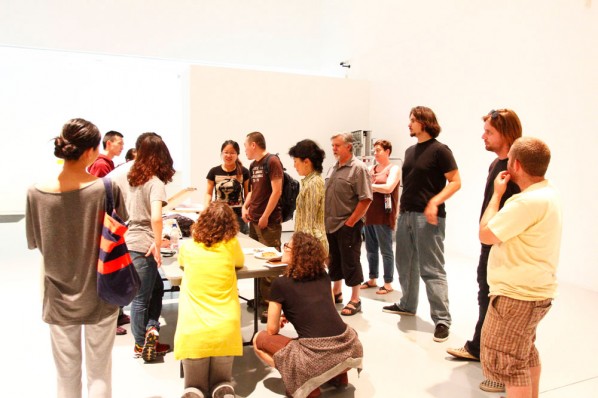 In 2010, the Department of Visual Studies at University at Buffalo(UB) embarked on a very exciting academic and cultural exchange with the Central Academy of Fine Arts (CAFA) in Beijing. It has now grown into a full collaborative effort between the two institutions, resulting in the opportunity for Visual Studies MFA graduate students to work closely with their Chinese counterparts at CAFA in realizing intensive, productive residencies and high caliber art exhibitions in both countries and, to be published soon, an ambitious project publication. Originated from this program, "Beijing Buffalo: Translation" presents the complicated evolution of this international exchanges which will offer new possibilities for future exchanges and cooperation between emerging artists in China and U.S.A. It opened in Beijing for display at the Today Art Museum/Today Print Arts Center (Mar.18-Apr.1, 2012). The last element in the current exchange project is now underway and slated to be completed this summer: a 400-page publication that charts the challenging and complex process of cross-cultural collaboration, and documents the impressive artworks.
During spring of 2010, the pilot exchange between Visual Studies and CAFA took place: three senior CAFA faculty members, Professors Wang Huaxiang, Li Xiaolin and Gao Rongsheng, came to UB for a one-week residency in the Dept. of Visual Studies; subsequently, three VS faculty members, Profs. Millie Chen, Joan Linder and Stephanie Rothenberg traveled to Beijing with the first group of UB Study Abroad students. Profs. Rothenberg and Linder used CAFA as a base from which to teach graduate and upper level undergraduate students of both UB and CAFA, and explore the cultural environment of Beijing. This first residency culminated in a dynamic UB/CAFA student exhibition at CAFA and, later, at UB.
In March 2011, Profs. Millie Chen, Reinhard Reitzenstein, Ben Van Dyke, and eleven Visual Studies MFA students traveled to CAFA to participate in the second exchange, starting an intensified academic exchange and the generation of research/creative collaborations between Visual Studies MFA graduate students and advanced undergraduate CAFA students. This year's exchange was developed by Profs. Millie Chen and Li Fan (CAFA) to support the production of new student artwork generated by cross-institutional and cross-cultural collaborations, and to result in a student exhibition of professional caliber for presentation in Fall 2011 at the University at Buffalo Art Galleries and at the Today Art Museum in Beijing in Spring 2012.
Two weeks prior to the opening of the resulting exhibition Buffalo Beijing: Translation at UB Art Gallery (Sept.16-Oct.22, 2011)*, Prof. Li Fan and his seven students arrived in Buffalo; the students continued working with their Visual Studies partners in finishing their projects. Collaborative art making is complex in and of itself. Despite the fact that cultural divides and language barriers were added to this mix, all participating artists rose to the challenge, even surpassing it in many cases. The result is profound cultural exchange, the blossoming of lasting friendships, and a professional exhibition of high caliber.
The participating faculty and Chairs, with nods from their Deans, at both UB and CAFA intend to continue this fruitful cross-institutional, cross-cultural academic and artistic collaboration. After a successful pilot exchange in 2009/10 and an exhilaratingly productive and rewarding full-year exchange in 2011-12, what is planned for future development of this exchange program is the continuation of artistic collaboration at the graduate level, resulting professional caliber exhibitions in both cities, and potential faculty exchange.
Buffalo Beijing: Translation is co-sponsored by the Dept. of Visual Studies (UB), Central Academy of Fine Arts (Beijing), The Confucius Institute at the University at Buffalo, University at Buffalo Art Gallery.
Related Reports
1. Department of Visual Studies, UB & Central Academy of Fine Arts, Beijing | Academic Exchange Program and Art Exhibitions by Department of Visual Studies, UB
2.Beijing Buffalo: Translation by The Confucius Institute, UB
Related posts: