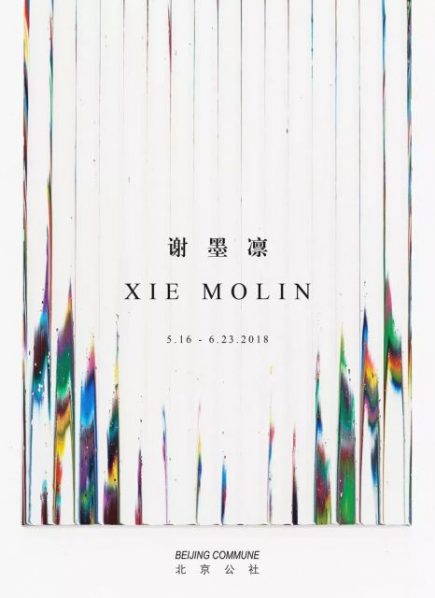 Beijing Commune announces the opening of the artist Xie Molin's new exhibition "Xie Molin", on May 16, 2018. As Xie's third solo exhibition at the gallery, it presents the development of his work in recent years, and it will continue until June 23rd, 2018.
According to Xie, there is a paradoxical and intense relationship existing between machines and people. For the artist, the significance of painting machines as an extension of the painter's hands is explicitly important. The boundaries beyond the reach of human hands fascinate the artist, but in the meanwhile the painting machine has its own inevitable limitations which could somehow intensify the depth of artistic creation. Thus, there are a bunch of uncertainties indeterminately occurred during his intimate work with painting machine, and changes to any established procedure would probably trigger new outcomes. Painting is no longer just an object shaped by specific materials, but can also symbolize a certain action. It gives rise to particular movements and reflections which only have indirect relationship with painting's results, such as the perception of restrictions and certain improvement on any process. The probe into the painting steps is also a vital element in the exploration of painting language, and in that case, the creative process is no longer a means to an end but the purpose itself. Throughout the process of thinking and making, the painter personally acts, observes, judges, and makes decisions. Hence, the artist's behavioral meaning is self-confirmed.
Xie Molin was born in Wenzhou in 1979. He graduated from the China Central Academyof Fine Arts (BFA) and Edinburgh College of Art (MFA). He currently lives and works in Beijing. His artworks have been exhibited in Ullens Center for Contemporary Art, Beijing; the Art Museum of China Central Academy of Fine Arts, How Art Museum; Museum Boijmans Van Beuningen, the Netherlands; Urban Arts Space, Ohio State University, U.S.; Hillstrom Museum, Gustavus Adolphus College, U.S.; RubellFamily Collection, Miami, U.S.; Asian Art Museum, San Francisco;Dickinson College, Carlisle, PA, U.S. and others.
About the exhibition
Dates: May 16, 2018 – Jun 23, 2018
Venue: Beijing Commune
Courtesy of the artist and Beijing Commune, for further information please visit www.beijingcommune.com.
Related posts: