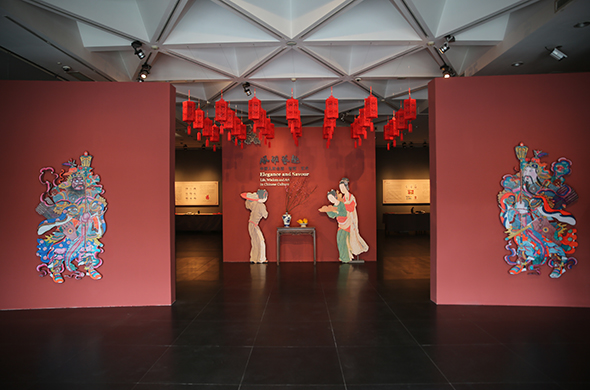 To celebrate the Chinese New Year in 2019, the Art Museum of Beijing Fine Art Academy displayed the exhibition entitled "Elegance & Savour: Life, Wisdom and Art in Chinese Culture". With more than 110 classical artworks of calligraphy and painting from its collection, the Art Museum of Beijing Fine Art Academy intends to describe the tranquil and elegant life that Chinese literati longs for as well as the styles and interest in folkart from two perspectives "Poetic Style" and the "Folklore" of paintings.
Showcasing Chinese Aesthetics as "Satisfaction for both Refined and Popular Tastes"
According to Chinese aesthetic standards, there's a phrase called "satisfaction for both refined and popular tastes. "Elegance (refined behaviors)" was the ultimate realm pursued by ancient Chinese literati, which was not just reflected in their daily manners, but also in their clothing, food, shelter and transportation of their lives. For hundreds of years, Chinese literati have kept enriching the connotation of elegance.
"Folk customs" summarize the styles and interest of Chinese folk culture. The industrious and rustic Chinese have summed up a lot of wisdom and philosophy during their life and work. Compared with the elegant items that literati care about, the Chinese folk culture seems to be more lively and interesting. There are auspicious patterns that promise a good life, lanterns and firecrackers, real animals or illusory beasts from the twelve horoscope animals which are full of Chinese flavor.
This exhibition introduces the elegance of Chinese literati who are keen on reading books, playing stringed instruments, observing paintings and literati collections; the four symbolic "gentlemen" in plants: plum, orchid, bamboo and chrysanthemum; the natural philosophy of landscape. Meanwhile, it also showcases the traditional folk customs such as the emphasis on loyalty and filial piety, religious belief, the pledge for auspicious longevity, expectations for sons and grandchildren, as well as operas, dramas, songs and dances with Chinese cultural features.
Celebrating the Auspicious and Joyful Spring Festival
As technology has played an increasing proportion of roles in our lives, the traditional customs of the Chinese Spring Festival have gradually been forgotten. Therefore, this exhibition aims to lead audiences to recall the taste of "Spring Festival" by introducing the origin of word "福"(fortune), patterns of paper-cutting, printing of New Year pictures, messages from letters.
The exhibition will remain on view till February 28, 2019.
Text by Wang Yanan, edited and translated by Sue/CAFA ART INFO
Photo Courtesy of Beijing Fine Art Academy
Related posts: