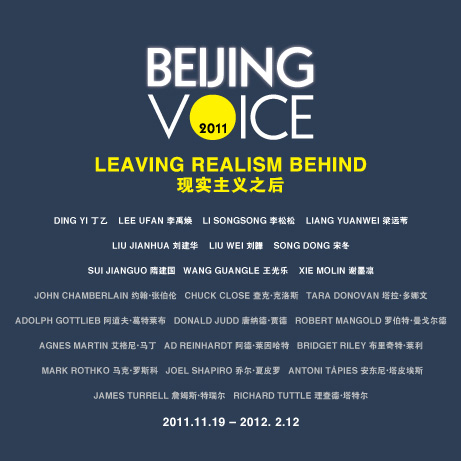 On November 19, 2011, The Pace Gallery, Beijing will present the second installment of the gallery's annual "Beijing Voice" exhibition. This is a long term project devised by The Pace Gallery, Beijing to consider and interpret the artistic phenomena that are currently underway in the art field. The first installment, Together or Isolated explored the complex interplay between artworks and their sociocultural background while addressing certain phenomena and issues extant in Chinese contemporary art. The second installment of "Beijing Voice," entitled Leaving Realism Behind, follows the same principles as it engages in a discussion of abstract art's progression in East and West and the interplay between the two.
Following the recent years of economic development, Chinese culture, and Asian culture in general, has enjoyed growing self-confidence. Chinese contemporary art is in the midst of a special development phase marked by a shift from narrative to a focus on form. For the overall field of contemporary art, this can be viewed as a deepening of the abstract art that was promoted under the new artistic spirit of America against a wider, multicultural backdrop. This deepening was previously embodied by the art of the Japanese Mono-Ha movement, represented by Lee Ufan.
The works in this exhibition are clearly delineated by time. The exhibition presents work by currently active artists such as Ding Yi, Li Songsong, Lee Ufan, Liang Yuanwei, Liu Jianhua, Liu Wei, Song Dong, Sui Jianguo, Wang Guangle and Xie Molin. Among them, Ding Yi's representative work, Cross 2009-13 attempts to use the mark of the cross, that basic unit of form, to present a certain way of thinking in abstract form.
Li Songsong deconstructs photographs and reconstructs them as new images. In his deconstruction of photographic scenes and reconstruction of portraits, Li Songsong has found his unique creative form. This exhibition will also present the works of young artists include Wang Guangle and Liang Yuanwei. Their purely formal works convey a certain attitude towards form, with their works mainly comprising time and materiality. Wang Guangle's work transforms time, life and unique culture into a purely formal language, while Liang Yuanwei's work is marked more by everyday emotions.
Meanwhile, Leaving Realism Behind will also present the various phases of abstract art's historical development in the West since its inception, with participating artists including John Chamberlain, Chuck Close, Tara Donovan, Adolph Gottlieb, Donald Judd, Robert Mangold, Agnes Martin, Ad Reinhardt, Bridget Riley, Mark Rothko, Joel Shapiro, Antoni Tàpies, James Turrell and Richard Tuttle. The exhibition will feature the work No. 1, 1957 by American abstract master Mark Rothko. Rothko used a minimalist language of pure form to cut right to absolute existence. Minimalist master Donald Judd's 1988 Untitled uses three-dimensional geometric methods to strip away the notions of form and reach its core. 2001 Little Children Playing With Love of Agnes Martin to use form to convey innocence – pureness to article trend and indifference to topical taboo. This exhibition will also feature Chuck Close's 1996 Self Portrait, Bridget Riley's 2007 Red with Red and other representative works by Western masters.
As an international platform based in China, The Pace Gallery, Beijing hopes to use the vibrant art forms produced here to engage a new look at past artistic achievements, and to make a contribution to understanding and enriched meaning. As society has changed, Asian contemporary art, particularly that of China, absorbed the long artistic history of the West with explosive speed and then underwent rapid changes and evolutions in its own right. In this compressed era, Chinese contemporary art has gradually shifted from social narrative art forms towards abstract forms. Unlike the pure abstraction of the West, these abstract forms are backed by a strong sense of life and temporality. They imbue a pure form with an almost meditative spirituality and everyday emotions. This exhibition will engage abstract art in a reading that crosses history and a dialogue that traverses time, space and form.
Leaving Realism Behind approaches the development and evolution of abstract art from a uniquely international perspective, presenting the differing contexts of Eastern and Western abstract art forms and their respective developmental trajectories. Western abstract art evolved according to the logic of Western art history, undergoing a metamorphosis from surrealism to abstract expressionism, while minimalism pushed abstract art to the outer limits through a rebellion against abstract expressionism. By increasingly simplifying abstract art, minimalism presented an extreme of pure form, and in this process of extreme purification, Western art history found itself in an existential dilemma. Eastern art, through the intervention of the West in its own abstract traditions, created a new art form, bringing about a new trend in Eastern contemporary art. As a specialized form of international art, Eastern art has then gone on to catalyze new movements in Western form.
Date:November 19,2011 — February 12, 2012
Venue:The Pace Gallery, Beijing
Courtesy of Artists and The Pace Gallery Beijing. For more information, please visit http://www.pacebeijing.com
Related posts: