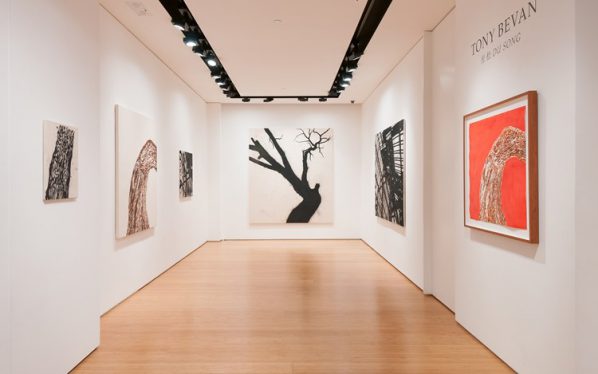 The exhibition features a new series of tree paintings in which the artist focuses on the sinuous curvature, abstract patterning and emotive power of the trunk of a juniper tree. By concentrating solely on the trunk of this wind-bent tree, the artist meditates on its unique curvilinear form and the varied corrugations of its bark, while cutting out the superfluous details of roots, branches and background. The trunk form hovers on a stark background—either raw canvas or vermillion ground—creating a tension as it extends to the lower and right edges. The tree's bark is depicted through intricate striations suggestive of the flow of a river or blood pulsing through a limb. Bevan infuses all of his subjects—whether heads, architectural structures, trees or stones—with a life force and intensity that transcend their original representation.
In 2013, Ben Brown Fine Arts Hong Kong exhibited Bevan's Trees series in which the artist serially depicted an ancient Chinese tree, portraying it in its realistic entirety, from its furled branches to its roots. The 杜松 Du Song series is a myopic, abstracted extension of the Trees series as Bevan continues to explore the expressive and textural possibilities of such a complex form, now honing in on the vitality and intricacy of the tree's trunk and its anthropomorphic and symbolic qualities. Bevan was struck by a photograph of a juniper tree on El Hierro in the Canary Islands, Spain, which he first saw two decades ago; since that time the photograph has been pinned to his studio wall along with myriad inspirational images, sketches, photos and ephemera and just now has manifested in this intensive new series.
Bevan typically works in a restrained palette of red and black, vigorously applying his pure acrylic pigments and charcoal directly onto raw canvas or paper laid down on the floor of his studio. He preserves the splinters and dust of charcoal and powdery pigment on the surface of his works, resulting in a dynamic tactility and insight into his working method.
About the exhibition
Dates: 17 Nov 2016 – 07 Jan 2017
Venue: Ben Brown Fine Arts
Courtesy of the artist and Ben Brown Fine Arts, for further information please visit www.benbrownfinearts.com.
Related posts: