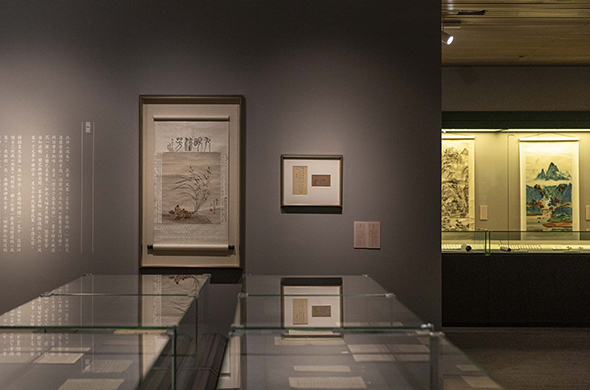 2018 is the 120th anniversary of Mr. Zhang Boju's birth. Following the exhibition showcased 33 pieces (sets) of collections donated by Zhang Boju to the Palace Museum, "Documentary Exhibition of the Couple Zhang Boju and Pan Su" uses three perspectives to exhibit 53 pieces of their paintings and calligraphy in different periods as well as 60 manuscripts, 30 letters written between them and their teachers and students.
Different from previous exhibitions highlighting Zhang Bojun's collection and donation, this exhibition tries to interpret the couple's artistic cultivation and achievements. According to the curator, "in this exhibition, Mr. Zhang made many inscriptions on the paintings Ms. Pan finished although he did not sign his name."
Born in a bureaucratic family, Zhang Boju(1898-1982) received traditional cultural education when he was young and he was considered well cultivated. From when he was 30 years old, he began to collect paintings and calligraphy while studying calligraphy and poetry. Later he studied opera with the master of Beijing Opera Yu Shuyan. Liu Haisu once commented that " Congbi (alias for Zhang Boju) is a great master on the plateau of contemporary culture. From his vast heart, five rivers emerge and they are painting and calligraphy, poetry, opera and calligraphy."
From 1927 through to 1960, Zhang collected 6 works of calligraphy and paintings from the Tang Dynasty and the previous period, 13 paintings and calligraphy from the Song Dynasty, 11 works from Yuan Dynasty, 40 works from Song Dynasty, 47 works from Qing Dynasty, after the founding of People's Republic of China, the couple successively donated their collection to the country and the story has become a legend.
Zhang Boju loved painting and calligraphy, which could be seen from his collections and it also conveyed in his paintings and calligraphy. In 1956, he joined with Chen Yungao, Fu Xuezhai, Hu Peiheng and so on to found the "Beijing Calligraphy Research Society." In addition to calligraphy, Zhang Boju also has rich experience in paintings, he was adept at painting plum blossoms, orchids, bamboo and chrysanthemum which showed his gentleman's grace.
In art, Zhang Boju can be described as Pan Su's Bole (a good judge of talent). Although Pan had a sad experience before she met Zhang Boju, she was fortunate to be appreciated by Zhang, they then fell in love and married. With the help of Zhang Boju, Pan began to learn painting and she was guided initially by Zhu Dejing in painting flowers, by Xia Renhu in poetry and songs, and later by Wang Mengshu in landscape painting. While Zhang Boju liked poetry, he often met with celebrities and literati and Pan Su was involved in their gatherings. In the section of "Poetry and Friends of Letters" showcases the collaborative works by them which contain their emotional sustenance of that time.
In the section of "Letters and Manuscripts", many precious manuscripts are shown to the public for the first time. Although for quite a long time, research on Zhang Boju has focused on his collection, his achievements in painting, poetry and other aspects are inseparable from his appreciation and collection. As a female artist who was active during the period of the Republic of China, there is no adequate study of Pan Su. This exhibition is based on this couple's paintings, calligraphy creations, manuscripts and correspondence which constitutes at best a footnote to their identity and achievements. It is reported that this exhibition will remain on view till 13 January, 2019.
Text (CN) by Yang Zhonghui, translated and edited by Sue/CAFA ART INFO
Photo by the organizer
Related posts: