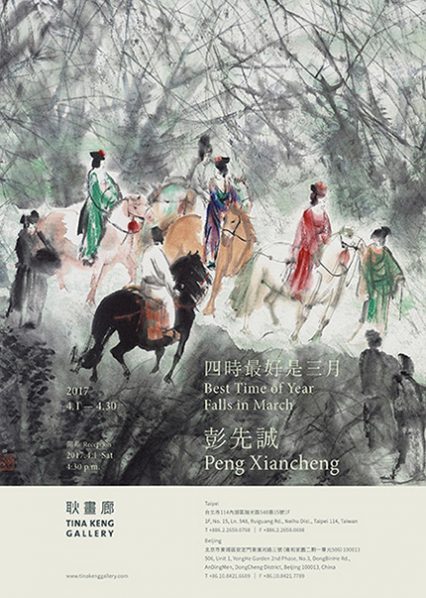 The Tina Keng Gallery
is pleased to present
Best Time of Year Falls in March
, the second solo exhibition of Chinese artist Peng Xiancheng in Taiwan. Delicately rendered in the
mogu
, or boneless, technique, Peng's work is modest and elegant. Deriving from a verse by the late Tang dynasty poet Han Wo, the exhibition title refers to spring as the youthful period in life, while lamenting the unrelenting passage of time.
Peng Xiancheng is often captivated by the subtleties in the change of seasons, which is exquisitely captured in his painting. "Spring awakening, summer thriving, autumnal withering, and winter waning; joy, anger, sorrow, and happiness; delightful reunions or sad goodbyes — each conjures an ineffable sense of melancholy or delight," the artist once remarked. "These sentiments are not easily conveyed through a paintbrush, and so they ferment in the heart until I pick up the brush, then myriad emotions flow through its tip, onto paper."
Best Time of Year Falls in March comprises the artist's recent body of work of flowers and birds, and human figures. The exhibition pivots around the "Spring Outing" and "Demoiselles in an Outing" series, where the artist plays with various techniques, first by using the landscape as a main focus then embellishing with horses and riders, or by focusing on the horses and riders then filling in the landscape; perhaps leaving expansive white space on paper, or by using calligraphy to break up the space — with an intention to create various scenes of spring warmth. Peng's classic work of horses, such as Polo, is painted in an effort to harmonize and unify the brush and ink with object forms. Grinding the ink paste thousands of times, the artist hopes to achieve expertise through familiarity, and to find variations within the familiar. The "Twelve Animals" series is the fruition of years of toil, with each animal springing to life on paper in all its vivacity. Rendered in the mogu, or boneless, technique, every subject under Peng's brush carries an etherealness that is grounded in the real — in varying shades of ink and within a solid structure, ingeniously evoking an ancient air of the Han and Tang dynasties. His painting style is one of candor and grace, simplicity and demureness. While the spirit harkens back to bygone days centuries ago, the emotions conveyed resonate with a lyrical sense of contemporaneity.
About Peng Xiancheng
Peng Xiancheng was born in 1941 in Chengdu, Sichuan, China. He is currently a national first-rank artist and an expert painter at the Sichuan Provincial Academy of Poetry and Calligraphy. He is also a member of the China Artists Association, a council member of the Chinese Painting Institute, and a researcher at the China National Academy of Painting. He receives a special subsidy from the State Council.
Peng's works have been collected by the National Art Museum of China, the Johnson Museum of Art at Cornell University, the Beijing Fine Art Academy Museum, Sichuan Provincial Museum, Zhejiang Art Museum, the Shenzhen Art Museum, the China National Academy of Painting, Prince Charles of England, Professor Jerome Silbergeld of Princeton University, and Professor Wan Qingli of Hong Kong University.
About the exhibition
Dates: 04/01/2017 – 04/30/2017
Reception: 2017.04.01 (Sat.) 4:30 p.m.
Venue: Tina Keng Gallery, Taipei
Related posts: