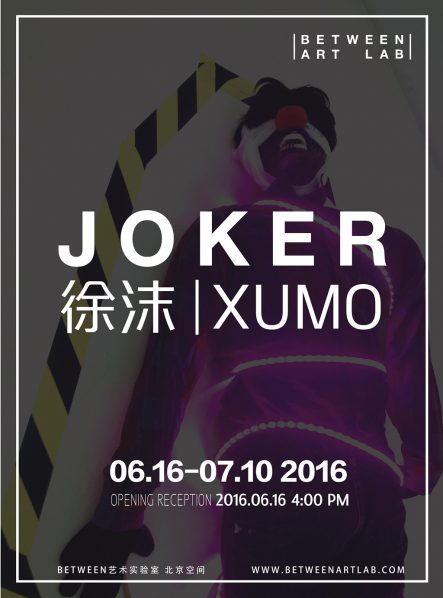 Between Art Lab (Beijing) is honored to announce the opening of Xu Mo's solo exhibition on June 16, 2016. The exhibition, titled "Joker", will present Xu's recent paintings and a series of experimental installations. As the title suggests, these works tell of the artist's production, something of banter, mockery, humor and self-criticism that is close to self-censorship. This exhibition can therefore be taken as an experimental area that the artist opens for the viewers. It will remain on view through to July 10, 2016. The opening ceremony will be held at 4:00 pm.
In the dictionary, "Joker" is informally explained as "a person that tells jokes or a clown that makes fun of himself". The exhibition is thus named because the artist is intended to start with his own art production and to turn Between Art Lab into an experimental area, where he is able to show to the public how he explores, in a joking way, art and the form and content of painting.
As an artist, Xu is engaged foremost in painting that is highly remarkable for absurd humor, but there is no lack of self-criticism underlying the sense of humor. "To me, what is the most attractive about art is not fulfilling myself but giving vent to my venom!" Xu told us. In his works we can find traces of real life and a sense of presence, but the final pictorial form, like the experimental area, is dotted with jokes, deduction, absurdity and humor coming along with the "plots" that appear both authentic and invented. There is also some awareness of danger and something that is rooted in the inside and loaded with some emotions that are by no means light-hearted. Most of his works capture a moment, but this moment is not designed for totally devoted exploration of some eternal topics; rather, they are somewhat allegorical or even self-justifying by virtue of deliberation and perception. The rendering and the supervision of the scene at a moment become the core of Xu's art. In the future the ultimate destiny will become something of the past, so no attitude an art school embraces can help the artist to avoid death, as is said by Hemingway, that the writings you have contributed all you life to is nothing but several light-hearted lines of scripts to the next generation.
About the exhibition
Date: 2016 . 06 . 16 – 2016 . 07 . 10
Opening Reception: 2016.06.16 4:00 PM
Venue: Between Art Lab
Address: Huan Tie, Wu Huan No.1, Jiuxianqiao Road, Chaoyang District Beijing
Courtesy of the artist and Between Art Lab, for further information please visit www.betweenartlab.com.
Related posts: