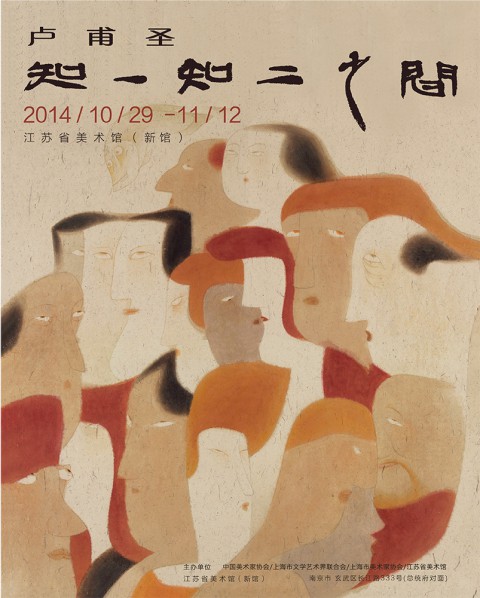 Jointly hosted by China Artists Association, Shanghai Federation of Literary and Art Circles, Shanghai Artists Association and Jiangsu Art Museum, specially planned by Jiangsu Art Museum, "Lu Fusheng: Between the Visible and Imagination)" opened at the new Jiangsu Art Museum at 3:00pm on 1 November. The exhibition showcases a 37.5-meter-long gigantic work of contemporary landscape which is entitled "Between the Visible and Imagination", and more than 100 represented works including his new one "The Gigantic Milky Way", and also through his poetry written in Chinese calligraphy which is associated with the visual concept of the works of landscape and figures, so that the calligraphy, painting, poetry, literary theory organically form one entire exhibition. This arrangement is beyond the aesthetic category of "the calligraphy and painting homology" in traditional concepts, combining the forms of knowledge and art of Lu Fusheng from a new perspective with an interpretation of more modernity. It is presented at Hall 1 of the new Jiangsu Art Museum from October 29 to November 12.
Gao Yun, Deputy Director of Jiangsu Provincial Department of Culture addressed the opening ceremony that, in his mind artist Lu Fusheng was a natural quiet old school literati who possessed deep learning and a solid theory, keeping calm and detached while he was skilled in painting, seeming humility while he had a strong mind, behaving rigorously while he had an individual character, cherishing his own words while creating gigantic work, based on the profound theoretical knowledge he poured a profound character into his work, and his art language embodied a valuable quality. Chinese painting is going through a variety of changes at present, at the moment the artists face a variety of options, Lu Fusheng inherits the tradition and has innovation, reflecting the avant-garde and contemporary.
Zhang Zikang, Deputy Director of the National Art Museum of China thought Lu Fusheng's work was "extensive, exquisite, profound", the "extensive" was reflected in his open mind, the "exquisite" was reflected as he was proficient in poetry, calligraphy, painting and seal work, the "profound" was reflected in the way he presented a new interpretation of ancient content, the establishment of the new painting language realized the breakthrough of the literati painters, he reached a new level of contemporary painting language.
Zhou Jingxin, Head of Jiangsu Provincial Chinese Painting Institute said that Lu Fusheng had a profound integrated quality, quietly performing, being rational and unrestricted, proficient in principle but using a freehand expressive way, bringing the audience more inspiration. Liu Dawei, Chairman of China Artists Association and Feng Yuanjun, Vice Chairman of the China Federation of Literary and Art Circles, who were not able to attend the opening ceremony, sent congratulatory messages to Lu Fusheng to highly praise his artistic achievements and the exhibition.
When Mr. Lu Fusheng was interviewed by CAFA ART INFO, he talked about the origin of the exhibition title "Between the Visible and Imagination" which was a special title, because "between" became a not solid state, which was associated with "only having an one-sided view", which contained two meanings: on the one hand, it should go beyond "only knowing one apsect", on the other hand, there was a richer or more natural existent reason "between knowing one aspect and knowing the overall", with this existent reason was a kind of new possibility, which was constantly generated, at the same time it couldn't be cured, once it was cured, it became only knowing one side or only knowing the other side, so it was a philosophical proposition.
When he talked about his creation, Lu Fusheng said he originally created many figures but he gradually changed it until it gradually reached a state where figures looked like landscapes and landscapes looked like figures, so that he didn't simply paint landscapes when he painted landscapes, didn't simply paint figures when he painted figures, and most of the works selected according to the exhibition space were like this. Lu Fusheng hoped this visual art exhibition would not force people to accept something, instead offer a revelation and openess. Art should be able to attract the audience to see and discover, everyone had a new visual creation according to the different demands and different possibilities in visual forms, so it left thought-provoking things. Therefore, the key of his painting creation is how to choose a framework, which can set aside more space for thinking, meanwhile with a visual form to graspthe audience, so it is an open painting instead of a closed painting. Traditional paintings are mainly closed, finished and handed over to the audience to see what they think. Lu Shengfu hopes his painting is just a start, leading people to see.
Lu Fusheng is a famous artist, art theorist, publisher, artistic curator, humanities scholar. He uses a profound theoretical attainment in art thinking and practice, and also experiences philosophy and writes history with an artistic creation, he has engaged in the publishing industry for a long time, receiving a remarkable achievement, he rigorously does scholarly research, and is good at thinking, also authentically uses the literati character to achieve a proposition for the era. Organized by Jiangsu Art Museum, "Between the Visible and Imagination" art exhibition not only collectively showcases Lu's creation, and also concretely embodies his art philosophy, it provides an opportunity for the audience to comprehensively and deeply interpret Lu Fusheng's art.
As the cultural circle evaluates Lu Fusheng as: viewing the integration of the achievements of Lu Shengfu, we find that he is a creator of art and knowledge.
Fan Di'an, President of CAFA said: "Mr. Lu Fusheng is an unique academic artist, artist scholar in contemporary art circles. He perfectly showcases an excellent quality of contemporary intellect. It is so serious to pursue academic truths, to sincerely practices artistic ideals. Like he proposes a lofty ideal in doing scholarly research, he walks on a unique path of painting, with his own spiritual pursuit. With his brush, he has entered a pure spiritual world. His creative state of mind is an independent, self and abundant world. Immersed in the world, he creates different images, various layers of brush and ink, moods, achieving an artistic conception which is different from the ancient and the others ideals."
Xu Jiang, Dean of China Academy of Art said directly: "One of the strongest features of Lu Fusheng's art is revealing the principle from a small thing, changing nothing to something. His painting is highly contracted, a figure is like a boat wandering in the vast heaven and earth, the landscape is broad and distant, all the paintings are lightly colored, seemingly gentle and virtual, like stars in the sky, presenting the broadness of the cosmos. In addition, his painting has an unique characteristic as he paints many heads as big as landscapes, while his landscapes look like the bodies of people, landscape is a metaphor for humans, and humans is a metaphor for landscape."
Text by Sue, translated by Chen Peihua and edited by Sue/CAFA ART INFO
Photo courtesy of the artist and Jiangsu Art Museum.
Related posts: