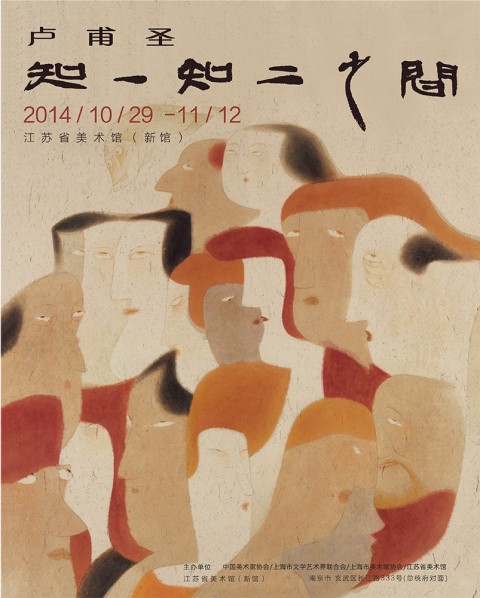 "Lu Fusheng: Between the Visible and Imagination" Art Exhibition is about to open at Hall 1 of the new Jiangsu Art Museum from October 29 to November 12, and launches an opening activity at 3:00 pm on November 1.
Lu Fusheng is a famous artist, art theorist, publisher, artistic curator, humanities scholar. Jointly held by China Artists Association, Shanghai Federation of Literature and Art Circles, Shanghai Artists Association and Jiangsu Art Museum, specially planned by Jiangsu Art Museum, "Lu Fusheng: Between the Visible and Imagination" art exhibition will be different to other precious exhibitions, it does not only showcase a 38-meter-long gigantic work of contemporary landscape which is entitled "Between the Visible and Imagination", and more than 100 represented works including his new one"The Gigantic Milky Way", but also through his poetry written in Chinese calligraphy which is associated with the visual concept of the works of landscape and figures, so that the calligraphy, painting, poetry, literary theory organically formone entire exhibition. This arrangement is beyond the aesthetic category of "the calligraphy and painting homology" in traditional concepts, combining the forms of knowledge and art of Lu Fusheng from a new perspective with an interpretation of more modernity.
Between the visible and imagination both collectively display Lu Fusheng's art creations, and concretely present his artistic concept. He gave a famous quote that reads, painting is to change the invisible thing that should be seen to a visible thing in reality, and the stimulation and presentation of this kind of imagination depends on the integration of the perceptual, intellectual, and rational, which offers us a special sample of the combination. Specific to the creation of Lu Fusheng, he considers the purest intellectual attainment of traditional culture as his premise, blending the perceptual existence of Chinese ink painting and the reasonable value of painting experiences in a modern style, thus it is beyond the perspective of Chinese and Western comparison in terms of painting language, to give the traditional Chinese cultural intellectual temperament a visual existence with a contemporary feeling.
Lu Fusheng's calligraphy work of his poetry combines the formal features of classic poetry and literature, content features of artistic thinking, with modeling featurse of calligraphy art, becoming a visible cultural symbol, blended with the painting works that are in pursuit of the formal language of modern meaning and contemporary visual experience, to provide us with a special model that combines classic cultural form with contemporary art forms, combining the traditional intellectual meaning with present cultural experience. Based on the contemporary thought of traditional culture, Lu Fusheng puts forward his artistic proposal, which is transformed into the expression of literary and poetry in the form of classic poetry, and this expression of literary and poetry is rendered by calligraphy characters of an ancient temperament, becoming difficult to identify. This kind of presentation is full of classical tastes andis also presented as the model that is in line with contemporary exhibiting and the visual experience, the visual experience itself is full of metaphors, suggesting that in the process of clarifying the meaning of Chinese culture again, it faces the difficulty and embarrassment of transformation and even interpretation. This heritage and conflict of cultural temperament and character reveals a very special practical significance in the land of Nanjing.
As the cultural circle evaluates Lu Fusheng as: he is a great artist who uses a profound theoretical attainment in art thinking and practice, and also a theorist that experiences philosophy and writes history with an artistic creation; an intellectual engaging in the publishing industry for a long time, receiving a remarkable achievement, also an art manager that firstly founded a Chinese auction house, operating an art institution; an academic planner who rigorously does scholarly research, and is good at thinking, also a cultural thinker that authentically uses the literati character to achieve a proposition for the era.
The exhibiting way of "Lu Fusheng: Between the Visible and Imagination" art exhibition does not only help us deeply interpret Lu Fusheng'sart, and also because of his unique creative capability, his serving as a typical case of the era, we are inspired to rethink the current real situation of Chinese painting, to review the increasingly updated visual path, to establish the present creative basis for the multivariate art again, to cognize again the contemporary Chinese cultural view that is formed by a batch of individual-effort artists.
Photo by Jiangsu Art Museum
Text by Zhang Wenzhi, translated by Chen Peihua and edited by Sue/CAFA ART INFO.
Related posts: