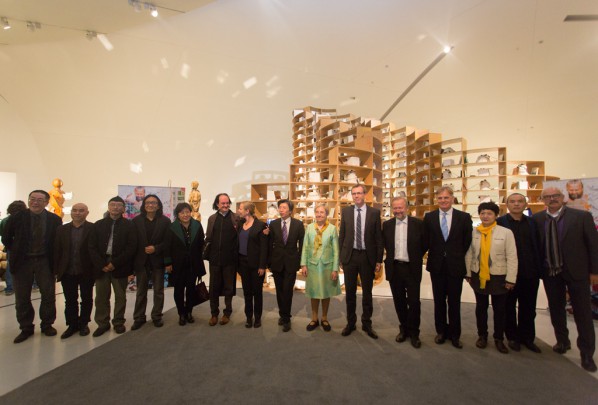 On the afternoon of October 24, 2014, jointly planned and finished by CAFA Art Museum and Statens Museum for Kunst, SMK (National Gallery of Denmark), the exhibition "Bjørn Nørgaard: Re-modelling the World" opened at the CAFA Art Museum, the exhibition is the Danish section of CAFAM International Art Season 2014, and is a part of the Danish Cultural Season in China 2014.
The exhibition displays more than 77 selected works from the Statens Museum for Kunst (SMK), and other art museums, public institutions and private owners, spanning from his early sculptures, installations, graphic works, performances and film through to the major works in public spaces, not least the large commission tapestries for the Danish Queen, as well as the reflective and humorous works of recent years, the exhibition aims to provide a comprehensive and coherent image of Bjørn Nørgaard's artistic practice from the 1960s to the present day.
Bjørn Nørgaard is a pre-eminent figure among the artists that are active in Denmark today and has been active in Danish and international contemporary art stages since the 1960s. BjørnNørgaard accepted the education of anti-classical art, and also insists on the anti-classical art creative system, and he is mainly engaged in sculpture art, for decades, he positively focused and was widely involved in all sorts of organization and system in democratic society, to discuss the social mainstream values, social structures and specific social issues.
On the occasion of holding the exhibition, Bjørn Nørgaard also donated his delicate creation of sculpture "Public Station" to CAFA Art Museum. In the present globalized world, technology, information, ideas are closely blended, which leads to the loss of cultural diversity of regional traditions. When Bjørn Nørgaard travelled around the world, he saw all kinds of bus stations, so that he was inspired to create the work, to reflect on the maintaining of present self cultural identity, and also to hope that in the rush of modern society, people can relax themselves when they are waiting for a bus, or fantasy or memory, and feel the poetic in the details of life. This sculpture is more than 3 meters tall, on the back of which it generally described the different histories and cultures of China and Europe, as well as how different regional cultures meet in present globalization, the front of the work is an open space, with an inscription of the words of Feng Yingjing in the Ming Dynasty "Today we are illuminating and inspiring each other. As people in the world share one mind, we are not to fail in the communication between East and West." Which is used to confirm the openness and communion between Chinese and Western civilizations, and this work will be permanently placed on the lawn outside the CAFA Art Museum. At the donation ceremony, Bjørn Nørgaard gave a poetic speech and hoped this work offered a place for waiting souls, wishing the work was full of love, dreams and hopes for the students of the academy, where the students could decide the direction of their dreams. Director Wang Huangsheng awarded a collection certificate to Bjørn Nørgaard on behalf of CAFA Art Museum.
At 5:00 pm, the opening ceremony of "Bjørn Nørgaard: Re-modelling the World – again again again" was grandly held at the exhibition hall of CAFA Art Museum, Fan Di'an, president of CAFA, Ms. Marianne Jelved, Minister of the Danish Minister of Culture, Su Xinping, Vice President of CAFA and Wang Huangsheng, Director of CAFA Art Museum, Wu Weishan, Director of National Art Museum of China, Mr. Mikkel Bogh, Director of Statens Museum for Kunst, SMK (National Gallery of Denmark), An Yuanyuan, Deputy Director of National Art Museum of China, exhibition curator Birgitte Anderberg, as well as Professors Lv Shengzhong, Lv Pinchang, Lv Pinjing and so on from CAFA who were present at the opening ceremony. Marianne Jelved addressed the ceremony stating that Bjørn Nørgaard was a master that went beyond the Danish boundary, through artistic creation he presented the history and culture of Denmark, and through the bold innovation of art forms to establish a new relationship with the world. President Fan recalled that he had been acquainted with Bjørn Nørgaard for more than a decade, as time went by Bjørn was still "young" and his art was young too.
"Re-modelling the World" is used as the title of a number of his most recent actions and installations where he breaks up the familiar world, rebuilding it and piecing it together in new ways, one could say that his art is based on a structural reordering of tradition. Appropriate for the exhibition, the title points to Bjørn Nørgaard's concrete re-structuring of his material aesthetics as well as to dialogue and involvement with prominent aspects of his practice.
The exhibition is held at Gallery 3B, CAFA Art Museum until November 28.
In addition, the exhibition is also a part of "A Small Fairy Tale, A Big Future" Danish Cultural Season in China 2014, which includes more than 60 activities themed on a variety of topics, covering exhibitions, concerts, film, literature, drama, and performing arts, etc., continuing until next summer, presenting Chinese audiences witha series of Danish cultural feasts.
Text by Zhang Wenzhi, translated by Chen Peihua and edited by Sue/CAFA ART INFO
Photo by Quan Jing/CAFA ART INFO
Related posts: