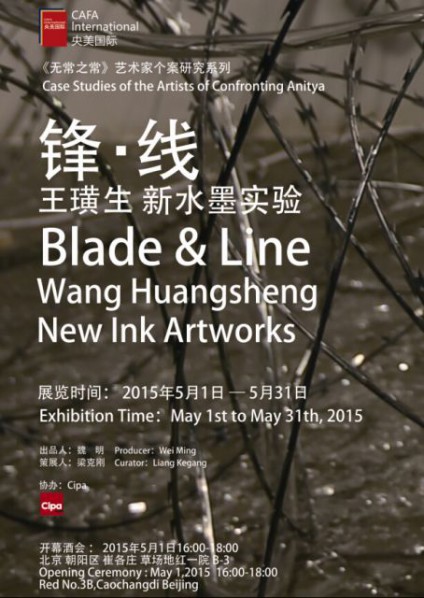 Wang Huangsheng is one of China's best-known curators and museum directors, but he is also an independent artist who has tried to transcend the limitations of his medium since the 1970s. The "Blade & Line" exhibition at CAFA International is not large, but it presents many important works from the last thirty years of Wang's career. A highlight of this show is the first public presentation of an experimental ink painting created in 1982, which shows a strong Modernist sensibility. Wang came from a family of ink painters, and he began studying the medium at a very early age. He mastered traditional ink painting, but he constantly looked for ways to change the language, medium, and concept of ink painting. Wang has always been interested in advancing the ink medium. Ink has experienced the injection of modernist expressionism and the extraction of line, the core of traditional Chinese ink, for use in abstract experiments. Recently, he has transcended the limitations of two-dimensional painting, using new materials to create three-dimensional installation art, and even four-dimensional interactive pieces. He has never been content with studying and transforming the techniques, languages, and media of art, and he has never compromised on the need for social responsibility, cultural viewpoints, artistic attitudes, and public duty in contemporary art or in his role as a public intellectual.
Curated by Liang Kegang, CAFA International's "Blade & Line" is a small but complete study of Wang Huangsheng's work. The exhibition presents a rare early work for the first time, as well as important works from solo shows over the last decade. Wang has also recently completed a "secret weapon," which he has been creating for over thirty years and is presented to the public for the first time at this exhibition. This is also the first case study show of the key artists in the two-year "Confronting Anitya" international traveling exhibition. "Confronting Anitya" is a long-term project that will continue to serve as a platform for other outstanding artists.
About the exhibition
Curator: Liang Kegang
Dates: May 1, 2015 – May 31, 2015
Opening: May 1, 2015, 16:00, Friday
Venue: CAFA International
Address: Red No. 3B, Caochangdi Beijing
Courtesy of the artist and Yuan Art Museum, for further information please visit www.yuanartmuseum.com.
Related posts: