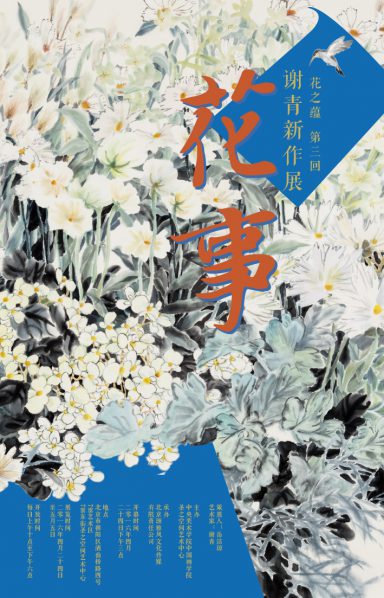 Xie Qing's new works of flower-and-bird painting contain stories, she brings stories into her paintings and the new works are filled with the different clusters from the past.
In 2014, Xie Qing initially created the triptych entitled "The Silent Boulogne", the screens are filled with strong sunlight. She has been chasing the strong, radiant and enchanting sunshine that she saw in the garden in Provence. Xie Qing still uses the technology of boneless painting blended into freehand brushwork, and she finds the best flowers to convey a sense of sunshine, so that she can fully express the sunshine in the painting. Xie Qing still uses an expressive way of boneless painting blended into the freehand brushwork of flowers and birds, which not only demands a new skill in using raw rice paper, ink and color but also because of the sketch characteristic of boneless painting, it requires the painter's heavy observation and continuous accumulation of skills throughout life. Xie Qing emphasizes sketching, observing the spirit of flowers. She intently collects materials, often single-mindedly researches a type of flower, starting from the growth of leaves when they are buds and then blooming, she chases after the blooming of flowers. She observes some type of flower in a certain place, and then goes to the hill where the flower blooms in order to see it. Xie Qing collects these materials year after year to build up a small database of flowers, which is also shared with her students.
In 2015, Xie Qing spent nearly a year in creating a large-scale work entitled "Herb Garden", bringing together dozens of different morphology of flowers from different regions, to form a warm, bright painting that is filled with a radiant and enchanting sense of sunshine. In 2016, her new works also feature a new look. The three works "White", "Yellow" and "Purple" use the pure white, yellow and purple with few changes, to depict the Herb Garden in the mind of Xie Qing. It is also an attempt at the semi abstract, which is considerably difficult. In the work entitled "Montmartre", Xie Qing introduces the image of a building onto the screen, which gives a big bearing to the flower-and-bird painting. It forms a visual tension between the distant grand building and nearby flowers, which expands the spatial dimension of the painting. Xie Qing's works do not only extend the theme and the bold innovation of composition, they also offer a valuable exploration of the contemporary developmental path of Chinese painting and also offers a new visual image case for Chinese and western cultural exchanges and mutual learning. "Princess Swan" and "Prince Frog" are both in a fairy-tale color, and they are combined with thoughts about environmental safety. Along with humans' development, it expands a larger and deeper natural section, so animals' living space is extruded, and the animals which originally harmoniously coexisted with humans in life, are replaced by handicrafts used to decorate our life in the environment.
Xie Qing has been exploring the field of flower-and-bird creation for more than 20 years, these works present Xie Qing's recent stories and the positive thinking, which opens many windows to develop more possibilities.
Text by Yue Jieqiong, translated by Chen Peihua and edited by Sue/CAFA ART INFO.
About the Exhibition
Title: Blooming Season – Xie Qing's New Works Exhibition
Opening: 3:00 pm, April 24, 2016
Organizers: School of Chinese Painting, CAFA, SZ Art Center
Undertaker: Beijing Songyafeng Culture Media Co., Ltd.
Curator: Yue Jieqiong
Duration: April 24 – May 5, 2016
Open Hours: 10 am – 6 pm daily
Venue: SZ Art Center, East Street 798 Art District, No. 4 Jiuxianqiao Road, Chaoyang District, Beijing
Related posts: